Who Was With Queen Elizabeth At Her Birthday Parade?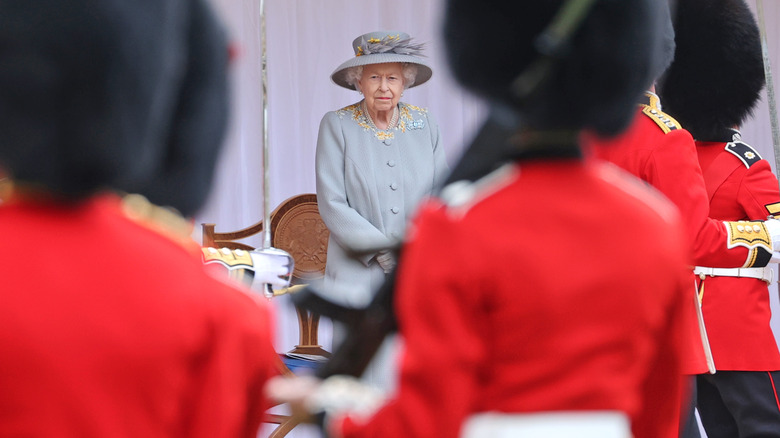 Chris Jackson/Getty Images
This past weekend, Queen Elizabeth II celebrated her birthday with an annual parade surrounding Windsor Castle. If you're familiar with British royalty, you may be wondering why the queen is celebrating now, when her actual birthday is on April 21. The tradition dates back to the queen's great-grandfather, Edward VII, whose birthday fell in November. Because the U.K.'s November weather is not typically good, King Edward pushed his official birthday celebration to the summertime, combining it with the annual military parade. The tradition stuck, and is the reason why Queen Elizabeth II celebrates her birthday in both April and June (via the BBC).
Though COVID-19 restrictions required some adjustments to be made to this year's parade, it was significantly bigger than last year's, with three times as many soldiers involved (via People). However, this weekend's celebration was noticeably different in another way — it was the queen's first birthday in more than 70 years that she wasn't accompanied by her husband, Prince Phillip, who passed away in April.
The queen was accompanied by family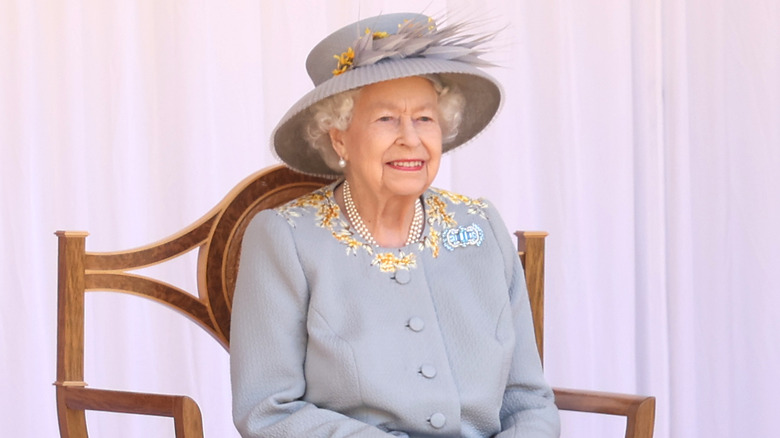 Chris Jackson/Getty Images
As reported by People, Queen Elizabeth II was accompanied by her cousin, Prince Edward, Duke of Kent, at her annual birthday parade. Despite any sadness that may have lingered over the day given Prince Philip's recent passing, the queen appeared to be enjoying the day. She and Prince Edward took in the marches, and the queen looked as prim and proper as ever in a matching gray coat and hat with yellow details. 
"I have the privileged position of being stood immediately behind Her Majesty at this point and it is quite clear that [she] enjoys this particular sequence of the parade," leading military organizer Garrison Sergeant Major Andrew Stokes told People, referring to classic songs like "Les Huguenots" being played. "I have unforgettable memories of seeing see Her Majesty foot-tapping to these memorable tunes."
Prince Edward was by the queen's side not only as her family, but Colonel of the Scots Guards, as the Queen's Colour of F Company Scots Guards was trooped at this year's parade. The queen and Prince Edward are first cousins through their fathers, Prince George, Duke of Kent, and King George VI. The Duke of Kent was also one of 30 guests at Prince Philip's funeral services (via Hello!).