Where To Buy The Exact Clothes Kat Wears On Euphoria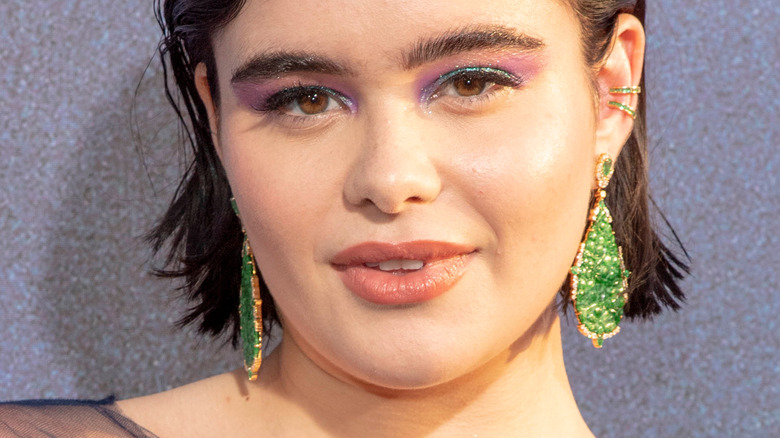 Shutterstock
When Sam Levinson's semi-autobiographical teen drama "Euphoria" began streaming on HBO in the summer of 2019, it completely inspired a new wave of self-expression through makeup and fashion. Although the series focuses on difficult subjects such as drug addiction, internalized homophobia, and abusive relationships, the clothes and beauty looks were a bright spot in an otherwise dark show. Whether you're drawn to Maddy's use of pearls and crystals to create unique eyeliner looks, Jules' Sailor Moon-inspired outfits featuring pastel prints and flowy dresses, or Rue's innovative use of glitter to mimic human tears, there is endless inspiration on this award-winning series.
One of the characters with the greatest style transformations is undeniably Kat Hernandez. When we first meet Kat, she's not too comfortable in her own skin and appears to hide behind her clothes. However, a few episodes into the series, she begins exploring her sexuality and completely revamps her wardrobe. Her newfound confidence and love of leather made Kat one of the best-dressed on the series and left viewers wondering how they could replicate her unique style.
You can shop Kat's best pieces
If you're looking to rock some of the same pieces Kat Hernandez did in Season 1 of "Euphoria," you need to check out Worn On TV. This helpful website reveals where you can buy the exact items Kat wore, including the leopard and rose jacket she wore in Episode 7. This cool girl jacket is called the Maggie Jacket and was made by the label Vex Latex. If you're looking to channel the same energy Kat had when she strutted through the mall in Episode 3, you can turn to Amazon, Etsy, and harness brand Zana Bayne to recreate her look.
One of Kat's most iconic looks is the black lace corset bra she wore in Episode 3 while creating her alter ego "Kitten Kween." If you want the same lacy top, just search for the Constellation Bralette by Thistle & Spire. Worn On TV features many of Kat's other outfits and reveals where to find other "Euphoria" cast members' best pieces, as well, such as Maddy's cherry print bikini, Rue's hoodie, and Cassie's crop top from the carnival episode.