The Truth About Frances McDormand's Birth Family And Adoption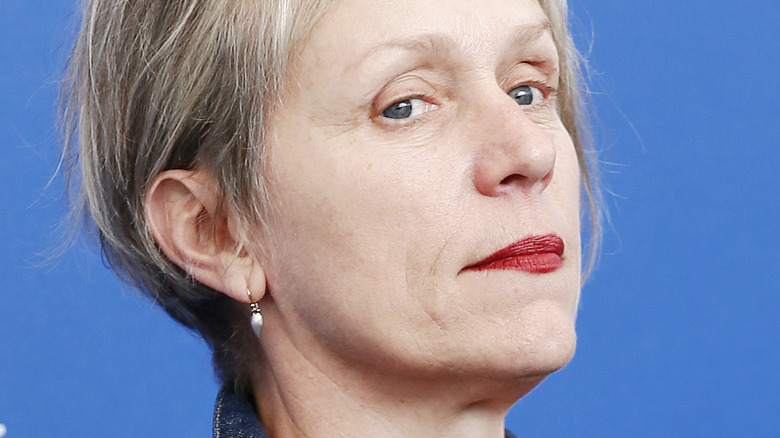 Shutterstock
Before going on to become an Academy Award-winning actor, Frances McDormand was adopted and lost touch with her birth family. She has spoken openly about her upbringing and the experiences that got her to where she is today. Here's what we know. 
McDormand was born in 1957 in Gibson, Illinois, and her birth name was actually Cynthia Smith. She got a new name and a new lease on life when she was adopted by Noreen and Vernon McDormand, a religious couple that could not have biological children of their own. And Frances wasn't the only child that the couple took in. Speaking with The New York Times, Frances shared that the McDormands adopted three children, but there were nine kids in total, including those the couple fostered. "They even took in stray cats," she told the outlet.
When she was a teenager, Frances had the chance to meet her birth mother but declined the offer. She has since described the woman as "white trash." "I identify as gender-normative, heterosexual and white-trash American," she told the Times. "My parents were not white trash. My birth mother was white trash."  But the McDormands, she described in the same interview as "solid, working-class, educated people."
What she has done with her fame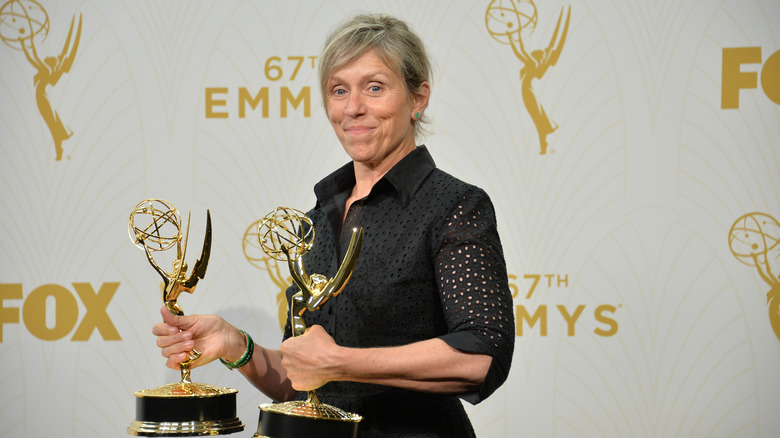 Shutterstock
Frances McDormand has gone on to find great success in both her professional and personal lives. She has won the Oscar for best actress every time that she has been nominated for it, and after winning the category for her performance in "Three Billboards Outside Ebbing, Missouri," she gave a passionate speech about women in Hollywood and the need for equality. 
"And now I want to get some perspective. If I may be so honored to have all the female nominees in every category stand with me in this room tonight, the actors — Meryl, if you do it, everybody else will, c'mon — the filmmakers, the producers, the directors, the writers, the cinematographer, the composers, the songwriters, the designers. C'mon!" she said (per Showbiz Cheat Sheet). "OK, look around everybody. Look around, ladies and gentlemen, because we all have stories to tell and projects we need financed. Don't talk to us about it at the parties tonight. Invite us into your office in a couple days, or you can come to ours, whatever suits you best, and we'll tell you all about them. I have two words to leave with you tonight, ladies and gentlemen: 'inclusion rider.'"
As she continues to take on important roles in groundbreaking films, McDormand is sure to maintain her fight for women in film.
Frances McDormand's family today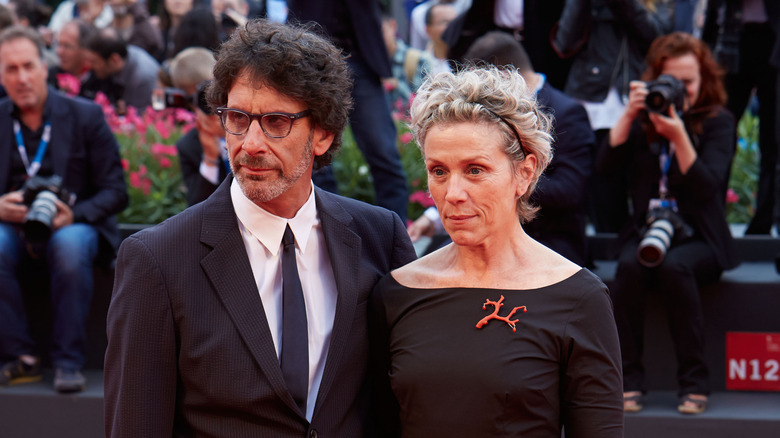 Shutterstock
Frances McDormand has gone on to build her own family with husband of several decades, Joel Coen. You may recognize his name from numerous blockbusters such as "Fargo," which McDormand starred in and credits as one of her most transformative and lasting roles. The couple speak very highly of one another in interviews and it seems that their love has stood the test of time. 
The pair have an adopted child together, a son named Pedro who they raised right in the middle of thriving film careers. They raised him in New York City and celebrated pagan holidays as opposed to the religious upbringing that McDormand was used to. "I couldn't commit to Christianity. But nature: I could always commit to that, and the power of it," she told Vogue. 
In his older years, Pedro has followed in his parents' footsteps and sought a career in Hollywood. When McDormand landed the January 2021 cover of Vogue, Pedro shared it to his Instagram with the caption, "So incredibly thankful to everyone involved in this project of putting my MOM on the cover of @voguemagazine I'm speechless. I remember a couple months back she asked me what I thought she should wear and without hesitation I sent her all of my favorites from Jerry Lorenzo's #SEVENTHCOLLECTION of the Fear of God look book..." Helping to style his mother's look for the cover was just the beginning of his blossoming career and McDormand's family is seemingly unstoppable.