Nathan Kress: Here's How Much The iCarly Star Is Really Worth
Amy Sussman/kca2021/Getty Images
He might be turning 30 next year, but we still know Nathan Kress from his role in Nickelodeon's "iCarly" above all else. Playing Fredward "Freddie" Benson throughout the show's run, Kress had a main role in the hit tween sitcom. While the California-born actor has starred in the likes of "Star Wars Rebels" and "Pinky Malinky" in the years since the original run of "iCarly" ended, so many of us still think of him as the teen behind iCarly's camera (via IMDb).
Outside of his career, Kress married London Elise Moore, and the couple have two daughters. Their first, Rosie, was born in 2017, and her younger sister, Evie, followed in 2021 (via People). He hasn't been neglecting his work, however, and with the news that "iCarly" is set to return, he's reprising his role as Freddie once again. The sitcom was certainly successful during its original run, but how much did Kress make as a result? Here's how much the "iCarly" star is really worth. 
Nathan Kress is a millionaire thanks to his entertainment career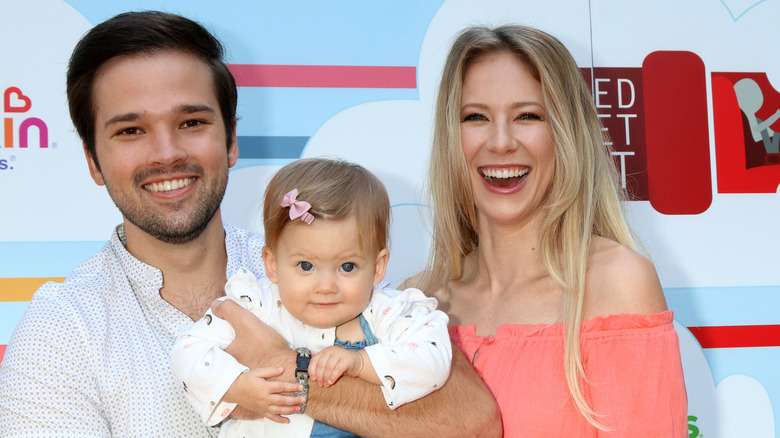 Shutterstock
Per Celebrity Net Worth, Nathan Kress is indeed a millionaire — he's believed to have a total net worth of around $1.5 million, in no small part due to "iCarly" and his subsequent acting career.
However, "iCarly" wasn't where the journey started for the 28-year-old actor. He started out as a child model as a toddler, and appeared in a few different print and television commercials. He then landed a role in the movie, "Babe: Pig in the City," as just a tiny little kid. At six, he stepped away from acting to concentrate on school and having a regular childhood for a few years, before returning to the world of drama at 11. 
In April 2005, he appeared in a sketch on Jimmy Kimmel Live!, in which he played a young Simon Cowell (via Screen Rant), and had guest roles on a number of shows include "The Suite Life of Zack and Cody" and "Standoff." He then had a small role in Nickelodeon's "Drake & Josh," which set in motion a chain of events that would lead him to star in "iCarly," the show that would propel him into the public eye.