Here's What The Cast Of iCarly Is Doing Now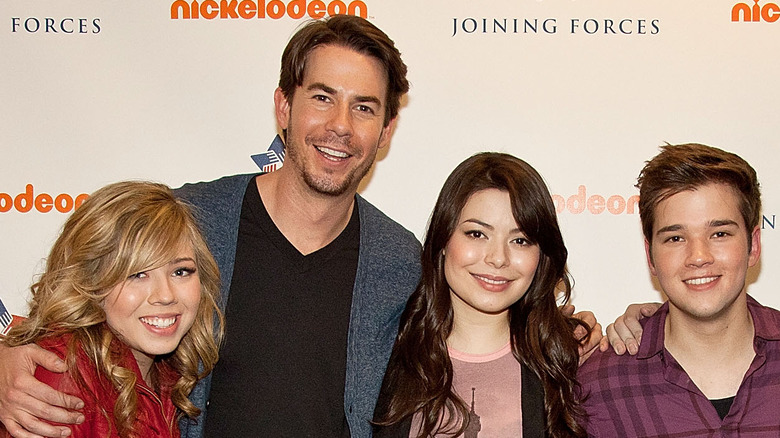 David Surowiecki/Getty Images
Leave it all to Carly Shay, that teenage kid with the quirky friends and even quirkier brother, who knew how to create the ultimate TikTok videos before there was ever a TikTok – on Nickelodeon, of course, not in real life. 
iCarly is one of the most successful teen shows in Nick history, taking a deep dive into teen internet influencers before the common use of the term even existed. And soon, a reboot called "iCarly: All Grown Up" is making its way to one of the latest streaming networks, Paramount Plus, on June 17 (via CNN).
The "iCarly" cast became overnight teen sensations in 2007 when the show premiered, with star Miranda Cosgrove launching a singing career and Jennette McCurdy bringing her character, Sam, onto the spin-off, "Sam & Cat" (also starring Ariana Grande as Cat) in 2013. You could even find a few big names as part of the recurring cast, including Jane Lynch as Sam's domineering mother (via IMDb).
As fans look forward to seeing a decidedly grown-up version of "iCarly" many wonder what the main cast has been doing since the show left Nickelodeon airwaves nearly a decade ago.
Carly and Spencer find life outside their iCarly apartment
Miranda Cosgrove was ripe for college when iCarly ended and that's exactly what she did by attending The University of Southern California, according to Insider.com. You might also recognize her voice from playing Margo in the hit Disney animated "Despicable Me" movie series. As of 2020, she was also set to star in a film about pro skating called "North Hollywood" and had recently made a guest appearance on the comedy show "The Goldbergs" (via IMDb).
Jerry Trainor, who played Carly's spaghetti taco-loving older brother and guardian, Spencer, has continued to act in children's and young adult programming. 
In recent years, he has appeared on the Nickelodeon series "Wendell and Vinnie" and "No Good Nick," and Jerry Trainor now has a stunning net worth. Like Cosgrove, he has also lent his voice to roles, including on the show "T.U.F.F. Puppy." Trainor also veered away from Nickelodeon over to the Disney Channel where he made a one-shot appearance on "Bunk'd" (via Insider).
Sidekicks Sam and Freddy have continued in show biz
Jennette McCurdy took the wholly unique Sam Puckett and brought her to a whole new series when "iCarly" ended. She starred in "Sam & Cat" as both Sam and her twin sister, Melanie, from 2013 to 2014, according to IMDb. By 2014, she made her way onto Canadian television, starring in the sci-fi series "Between."
McCurdy was ready for a run in a one-woman Los Angeles show she wrote called "I'm Glad My Mom Died" just before the coronavirus pandemic shut the world down. The play is based around her own experiences after her mother passed away in 2013, according to Distractify. McCurdy is the only one of the four "iCarly" regulars who won't be appearing in the reboot (via Entertainment Tonight).
Nathan Kress, who played Carly's neighbor and other bestie Freddie Benson, brought that character over to "Sam & Cat" briefly but also branched out of the Nickelodeon world, according to Insider. He did some voiceover work for the "Star Wars" franchise of animated series and appeared in the film "Into the Storm" in 2014. Since 2020, he is also hosting a podcast about parenting called "Radioactive Dads" as he is the father of two daughters, who he shares with his wife, actress London Elise Moore.