Here's What You Need To Do To Prep Your Deck For Summer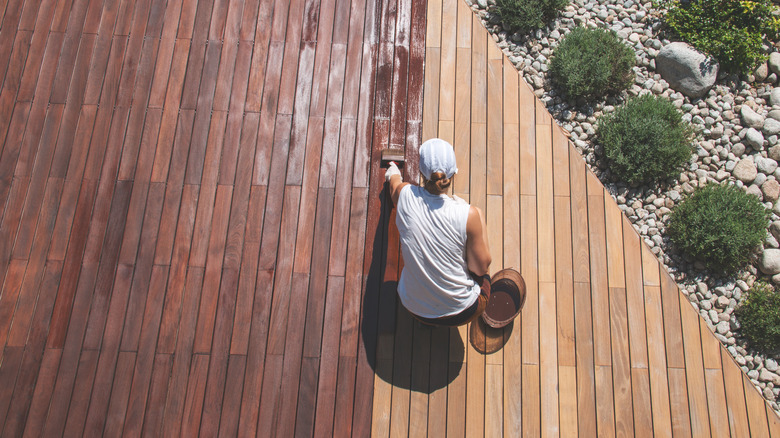 Shutterstock
Summer is here and you know what that means: warm weather, flowy clothes, and outside activities. But before you can indulge in any summer fun, you need to prepare. And we're not talking about buying new clothes or stocking up on ice cream. We're talking about the hard work — prepping your deck.
Winter may have eroded your deck, especially if you live in a snowy state. So, before you start planning any deck or garden parties, you have to clean the area! According to Real Homes, the first step is to wash your deck. Sweep out any debris and then proceed to clean it with a power washer, which will clear out any hard-to-reach spots. Once washed, let the deck dry. When that's done, you'll be able to see how much damage your deck may have suffered during the cold months (via RealHomes).
Per My Decorative, you'll also need to replace any fasteners and remove splinters. Once snow melts, water remains, which can cause erosion, rot, and mold on your deck, especially if it's wood. Thus, according to the outlet, replacing splinters and fasteners after you've washed your deck will make it look good as new.
More steps on preparing your deck for summer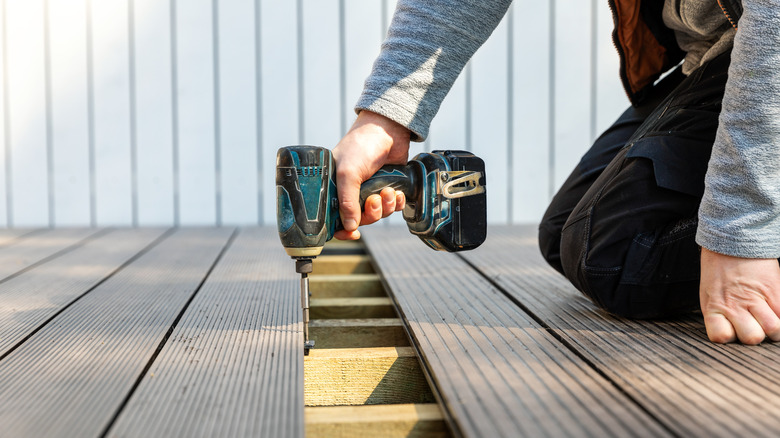 Shutterstock
Prepping your deck is not easy — it requires a lot of work. Sometimes, removing the splinters is not enough. Depending on damage done, you might also need to replace the wood on the deck. According to My Decorative, wood can be worn down by weather or old age. Thus, get ready to replace the wood by measuring twice (not once) and cutting, the outlet notes. Additionally, you should use a circular saw for cutting because it's portable and easier to manage. You surely don't want to mess up the wood or deck.
Next, once any wood is replaced (if needed), it's time to paint. Now, this is the fun part. Either you can paint your deck a different color or keep it the same, per Real Homes. But whatever color you choose, you must always re-seal the coat of paint with an oil or sealant, the outlet added. Sealing the paint will not only make the color stand out, but also last longer and prevent any future damage.
After the paint job, you'll be done, unless you want to add some decorative pillows or touch up your railings. Now, that wasn't so hard, was it?