Who Is Piper Palin, Sarah Palin's Daughter?
Piper Palin was only seven years old when Republican presidential candidate John McCain chose her mom as his running mate (via Ballotpedia). One of the only times the Alaska native's name occupied headlines was from that very same year, when eagle-eyed internet trolls noticed the young girl carrying a counterfeit Louis Vuitton handbag (via The Cut). Was there really nothing more pressing for the media and Twitter users to complain about? Apparently not. 
Since then, Piper has for the most part stayed out of the spotlight that has followed her family members for years. While Sarah Palin's eldest daughter, Bristol Palin, became a teenage mom, made controversial public comments about abstinence, competed on "Dancing With the Stars," showed up to a gala sporting a whole new face, released a memoir, got into a bar brawl, and wrote multiple open letters to Barack Obama (per The Week), little Piper just carried a knockoff purse and then privately went on with her business. However, her Instagram account shows fans and friends alike everything she's been up to behind the scenes. The cameos she makes on her mom's account drop quite a few hints as well.
Piper Palin's famous mom scolded her over this picture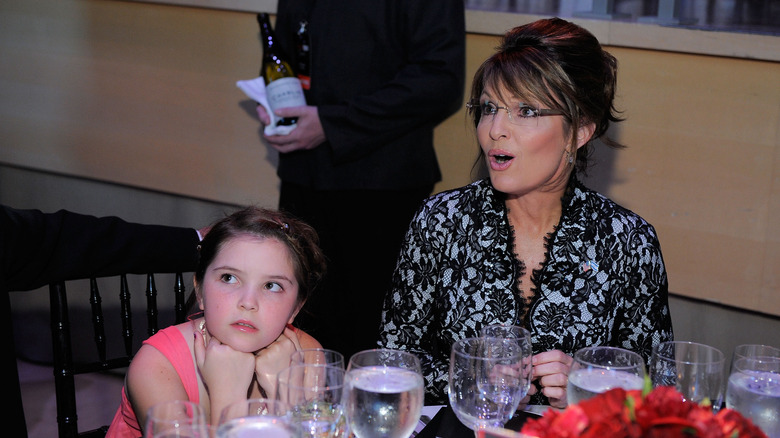 Jemal Countess/Getty Images
Piper Palin's Instagram is largely what you would expect from any 20-year-old — family get-togethers, photo shoots with friends, evidence of outdoor adventures, and a whole lot of smizing. Most of it is pretty innocuous stuff. However, there's one photo that brought out Sarah Palin's inner Mama Grizzly. The pic in question, which Piper posted in November of 2020, showed her and a female pal dressed up for a Halloween shindig. In it, she's sporting a tight-fitting bodysuit resembling a race car driver's outfit, complete with knee-high black heels, aviator sunnies, top knot buns, and a good five-or-so inches of cleavage. The caption read, "Wanna see some real speed bieeetch." 
While plenty of her followers were quick to compliment the young adult's sexy costume (including her sister Bristol), her mom was less than impressed. She left a comment on the post that simply said her daughter's name in all caps followed by a series of exclamation points and an angry-faced emoji. Yikes.
Piper Palin's mom praised her for going to college the 'right' way
Piper Palin graduated in the wake of the infamous college admissions scandal, and her mom was quick to make comparisons. The former governor of Alaska used the occasion to throw some shade at Lori Loughlin's daughter, Olivia Jade, writing on social media that she was "so proud" of her daughter for going to college the "ethical, legal, RIGHT way." 
"In the midst of revelation of all these 'celebrity' kids getting into colleges via bribes, threats, etc., Piper's desire to be a nurse (to serve others in their time of need!) makes my heart soar," Sarah Palin wrote on Instagram. "Despite some holding the 'Sarah Palin lineage' against her, Pjper [sic] will succeed. by the Grace of God my baby girl will survive & thrive the right way‼️"
However, a previous post on Sarah's account celebrating her daughter's pinning ceremony revealed the fact that Piper didn't attend a four-year university like Jade. Instead, she trained to become a certified nursing assistant. Regardless, Piper's contentious mom is downright proud of her youngest daughter and all that she has achieved.