Why This Is Alton Brown's Favorite Comfort Food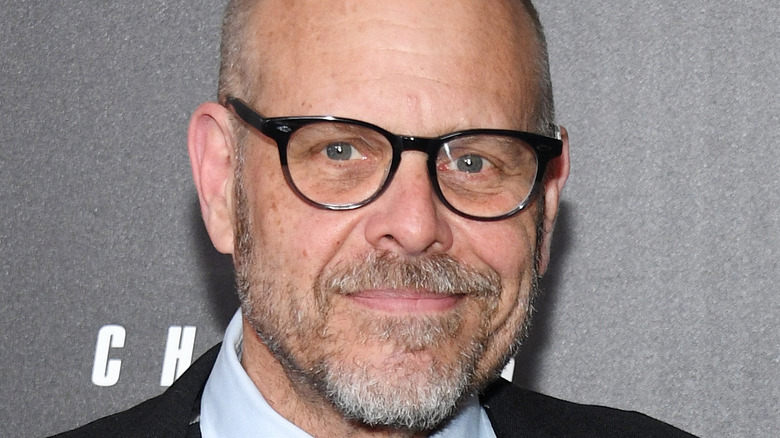 Dimitrios Kambouris/Getty Images
Alton Brown is known for being a bit "out there," which might honestly just be part of the job description for being a TV food personality, but he's hardly an elitist when it comes to the foods he enjoys. While some chefs give the impression that if you went out to eat with them they'd badger the server with a multitude of questions about ingredient integrity and methods of preparation, Alton Brown seems ... way more chill. He seems like the kind of guy you could order a pizza with — and he might even ask if you've got a can of Kraft Parmesan cheese on hand.
The Food Network star raised some eyebrows recently when posting on Instagram about his love of the cheese product saying, "Call me trash, but I will snort this stuff like the cellulose powder stepped on cow candy that it is." As Brown told Bitter Southerner, when he first started working on "Iron Chef," he was regularly flummoxed by certain ingredients. "I shop at Kroger, OK?" he said. "You don't get 16 different kinds of freaking kelp at Kroger ... It was a learning curve." So it's not entirely surprising that Alton Brown has kept true to his unfussy roots.
Alton Brown's comfort food is a nostalgia pick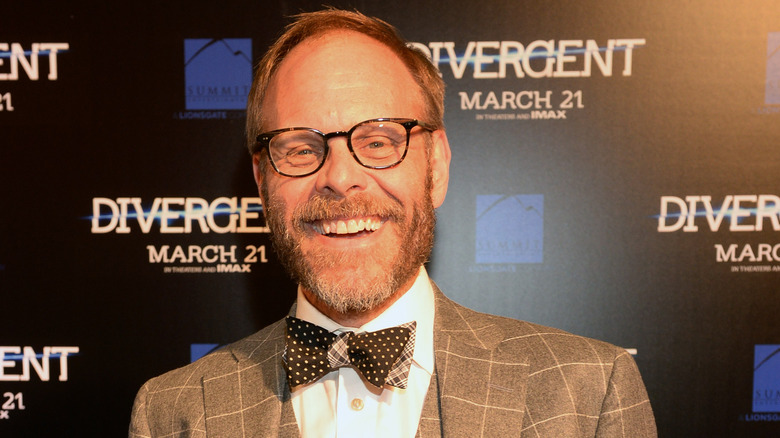 Rick Diamond/Getty Images
When it comes to comfort foods, Alton Brown keeps it real — and real simple. His favorite? A bowl of cereal. While many on Twitter disagreed with him, Brown stuck to his assessment that "the most comforting comfort food of all is a bowl of cereal." 
When one fan offered her opinion that warm, freshy baked bread with butter was better, Brown's reply was simple: "Okay, but you have to like ... make that." So we're guessing that ease of preparation is a factor when Brown is looking for a quick fix of feel-good food.
But just because he still loves the childhood staple of milk and cereal, there's no reason to assume he won't play with those ingredients for a more "elevated" take. After all, Brown is known for his madcap scientist energy and his willingness to experiment to find the tastiest combinations.
For a fancy(ish) take on another childhood classic, Southern Living highlighted Brown's recipe for Browned Butter Krispy Rice Treats, which we'll be making right away — you know, for research purposes. Or, maybe we'll just pour a bowl of cereal if it's too much work.