The Drugstore Sunscreen That Celebrity Makeup Artists Swear By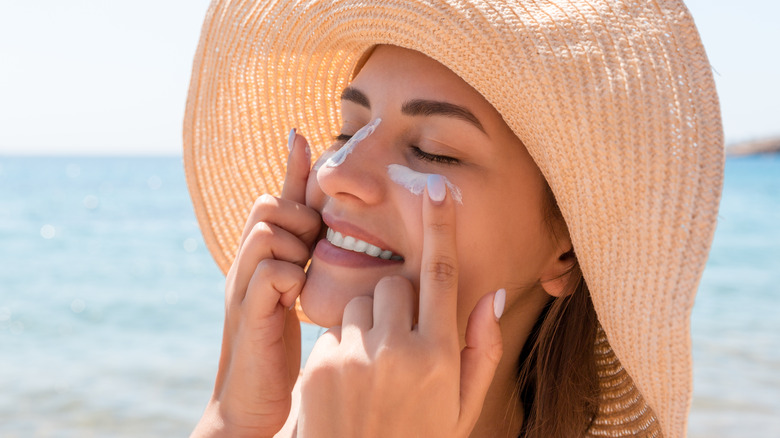 Shutterstock
As the weather heats up, chances are you're looking for a great sunscreen as you spend more time outdoors. While the sun is critical to your health, the sun's ultraviolet (UV) rays can cause skin damage, leading to premature aging and even possible skin cancer, which means finding the perfect sunscreen is essential (via Harvard Health). While you likely know some of the ingredients you should avoid while shopping for sunscreen, you still might not know which brand will work well, keeping you protected while you enjoy time outdoors while also keeping your skin happy and breakout-free. Finding the right sun protection product can be exhausting and involve a lot of trial and error, which, in turn, ends up costing you money. 
If you've been buying several products in the search for the best sunscreen, celebrity makeup artist Rae Morris can help you narrow it down. The best news? The sunscreen she recommends is readily available at your local drugstore.
Here's why you should try La Roche-Posay's sunscreen
Makeup artist Rae Morris told Byrdie that her favorite sunscreen is from La Roche-Posay. "This is my go-to sunscreen, and I use it personally every day," she said of the brand's Anthelios 30. "You won't get breakouts with this one." Consumer Reports gave the brand's broad spectrum Anthelios 60 a perfect score. People reported that the French brand received the perfect score at least five times. 
While it's not cheap — it retails for around $36 — the sunscreen has a considerable following among consumers, makeup artists, and beauty editors, according to Byrdie. Given that you can find it on the shelves nearly anywhere, you're sure to have plenty available for all your outdoor needs. Plus, it's water-resistant for up to 80 minutes, can be used on both your face and body, and it provides antioxidants in addition to UV protection. If you need trusty sun protection, this one sounds like a winner.