The Hair Care Brand Created By Shakira's Stylist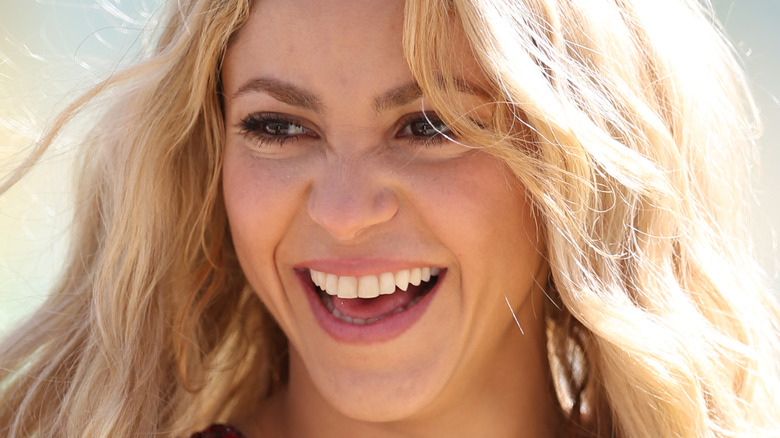 Ian Macnicol/Getty Images
Shakira fans understand that the singer-songwriter loves to shake up her look. The Columbian pop star, who is known for her enviable hip shakes (seriously, how does she do that?), has turned heads as she's changed her hair from blond to red in February 2021. And her hair never looks fried — her locks always appear healthy, with her curls perfectly tamed, yet bouncy.
Well, those perfectly styled looks are the handy work of her hair guru, Kim Kimble.
Kimble is well-known in the reality TV world for her time on WE TV's "L.A. Hair," but it's her work styling the manes of big-name celebrities that has the third-generation stylist as the go-to person for many performers (via Athleisure). Her client roster includes Kelly Rowland, Lady Gaga, Zendaya, Rhianna, and Mary J. Blige, according to her website. Remember all those hot hair looks in Beyoncé's "Lemonade" visual album? That was Kimble's handy work.
But you don't have to be a celebrity to get the coveted locks of Shakira. The Los Angeles-based stylist's Kimble Beauty, a natural beauty hair care line, consists of affordable products for users who want those perfect curls. And Kimble's new collaboration means she has new products in her arsenal.
Shakira's hairstylist has hair care products for natural, curly hair
Damaged, unruly, and dry hair is not a look coveted by anyone. Kim Kimble understands this and created a line founded on her belief that achieving a desired hairstyle should not mean comprising hair health. Remember perms? Talk about damaged hair. To avoid having to decide between a styled look and diminished hair health, the stylist has created a beauty brand she describes as delivering "great-looking uncompromising hair."
Although her brand has been around for some time, Kimble continues to expand her product line with her recent Wet Goods Line — which, as Allure reports, was designed with "kinky and curly textures in mind" — but there's "essentially something for everyone." This hair care line consists of a repair serum ($12.49), leave-in conditioner ($11.49), a coconut milk and avocado oil shampoo ($11.49), shine spray ($16.69), a pudding creme ($17.69), and oil hair lotion ($15.59) that available exclusively at Sally Beauty. Her other beauty products can be found on her website, Shop Kim Kimble. Summer's arrival means frizz and curls that have minds of their own, but Kimble's newest line of hair products allows everyday women to take control of their curls while maintaining a healthy mane. Per Allure, all six products are designed for "washing, styling and treating" natural curly hair. 
If using some of Kimble Beauty Wet Goods Line products means achieving a look similar to that of Shakira's hair, count us in!