Here Are Kelly Ripa's Go-To Products For Perfect Skin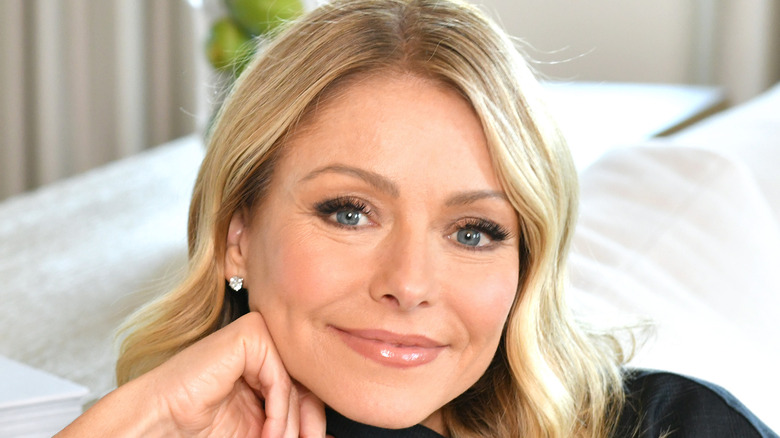 Craig Barritt/Getty Images
Sometimes it's easy to feel as if Kelly Ripa never ages. The longtime talk show host, who's had a stunning transformation, has been at the helm every morning on "LIVE with Kelly and Ryan" for 20 years (which was "... with Michael" and was "... with Regis and Kelly" beforehand), looking flawless with each appearance. By the time she started the talk show, she had come a long way from the punk rock look she donned when she started her career on the soap opera "All My Children" back in 1990. But even with deep red lipstick, black wig, and black eyeliner, Ripa's complexion seemed perfect (via The Things).
As a mother of three, Ripa and her tales of raising her two sons and one daughter have made her a relatable part of each morning for countless fans for the last two decades. She even managed to make time to star in a sitcom called "Hope & Faith," while doing double duty on her talk show, according to Biography. And somehow she has done all of that while looking absolutely fantastic and staying fit. How does she do it and what products does she use to ensure she always looks her best?
Kelly Ripa swears by these skin products that make her look and feel her best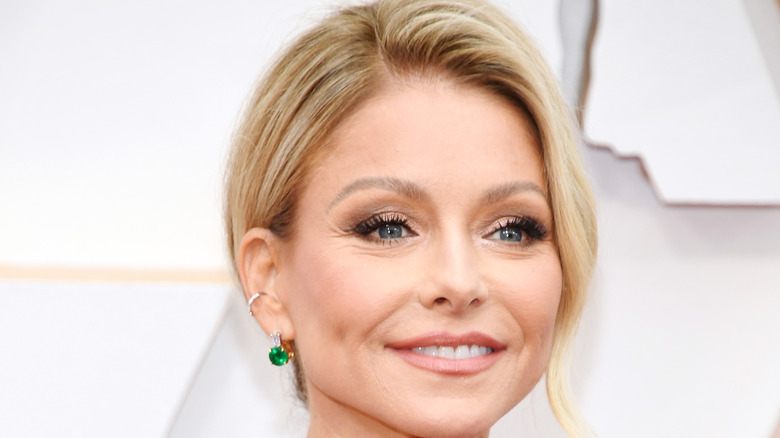 Kevin Mazur/Getty Images
Kelly Ripa has come a long way from growing up on the beaches on the New Jersey shore, where basting oneself in baby oil was the way to go for silky skin and a sunburn people thought would lead to the perfect tan. Like many people, Ripa now knows better and keeps her skin and her kids' skin protected from the sun using La Roche-Posay Anthelios Tinted Mineral Ultra-Light Fluid Broad Spectrum SPF 50 (via The Strategist).
One of the simplest ways Ripa keeps her skin looking like she never ages is by using a Dove Beauty Bar. She was given one when she came home from the hospital with her oldest son, Michael, and was told it is perfect for baby skin. It's apparently perfect for adult skin, as well, according to The Strategist. 
A good scrub is another way to keep skin looking healthy, and Ripa told Prevention that she gets rid of dead skin by dry brushing her skin. "I do a good vigorous brush of my entire body. I brush up towards my heart and down towards my hands," Ripa said. 
These are the items that keep Kelly Ripa looking so flawlessly young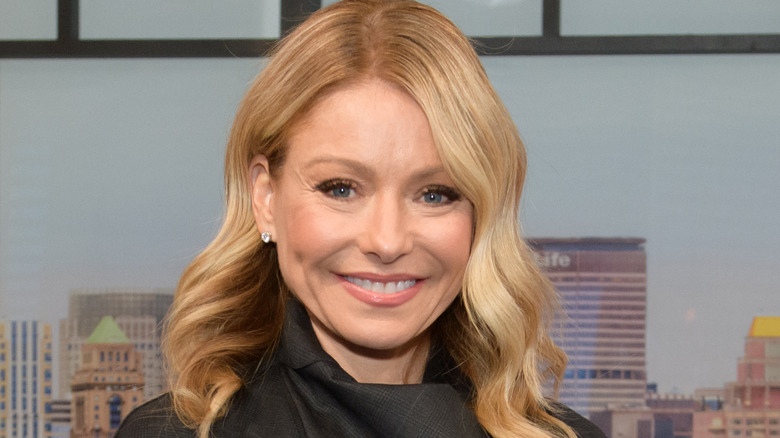 Noam Galai/Getty Images
Being on-camera every day means tons of caked on heavy makeup every day. For Kelly Ripa, removing this makeup means using Alcone Make-Off Makeup Remover Cloths. Ripa admitted to The Strategist that she used to sleep in makeup and was finally convinced it was decidedly not good for her skin.
"It is urgent to take your makeup off. Every night, no matter how tired you are, no matter how fun the club was, you have to do it. These wipes from Alcone are so efficient," Ripa said. "You don't have to scrub your skin to get the makeup off, and they don't leave your skin feeling greasy either. The older you get, your skin becomes like a piece of paper, so you want to really be gentle with it."
Finally, Ripa swears by Uma Oils Absolute Anti-Aging Face Oil, and said that she applies it both in the morning after she's gotten out of the shower, and at night before she goes to sleep. "When I wake up in the morning, my skin still feels moisturized," she said. "It hasn't evaporated into the abyss in the middle of the night," (via The Strategist).