Chloe And Halle Reveal Their Best Tip For Maintaining Dreadlocks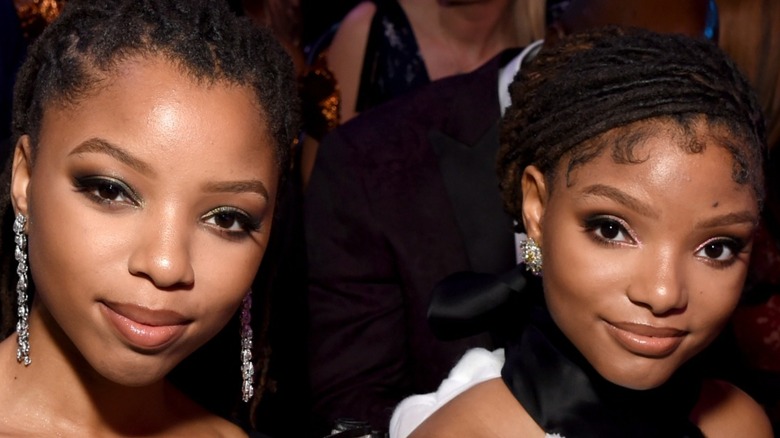 Michael Kovac/Getty Images
Sisters Chloe and Halle Bailey — who make up the best-selling R&B duo Chloe x Halle — are some of today's biggest advocates of the natural hair movement. Every performance outfit showcases the versatility of Black hair, and reminds us that natural hairstyles deserve to be celebrated and cherished more. Per Essence, the Bailey sisters have styled their locs in so many different ways that it's hard to pick a favorite — but their high ponytails at the 2020 BET Awards comes pretty close. 
Even though the duo have consistently shone a spotlight on the natural hair community, their locs haven't always been accepted. In a September 2020 Instagram live with Tina Knowles-Lawson, they revealed that they were shamed by casting agents and producers because of their hair (via Femestella). When they were younger, they were forced to hide their natural hair and wear wigs in order to conform to a more "socially acceptable" hair type. Hair discrimination is nothing new. Black women face criticism because of their hair on a daily basis — both in their personal lives and at work, to the point where it's become a civil rights issue.
Despite the setbacks, both women continue to celebrate their locs in all their beauty. If you have serious hair envy and are ready to make the jump, here's what Chloe and Halle think you should know before you get dreadlocks.
Here's Chloe x Halle's No. 1 tip for taking care of locs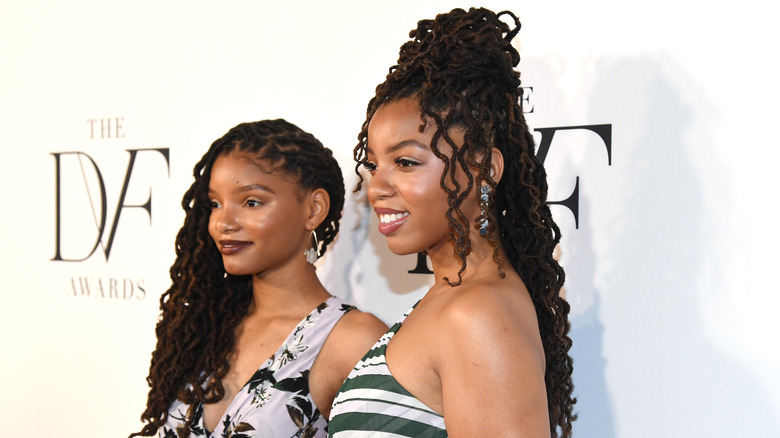 Kevin Mazur/Getty Images
If you're thinking about locking your hair, having a beauty routine in place is important. In order to prevent breakage, you have to keep your scalp moisturized, while also regularly removing buildup. 
In an interview with Byrdie, Chloe x Halle shared their own wisdom on the best way to decide if dreadlocks for you. "I would have to say before you get them and you want to see how they'll look or feel, try getting temporary loc extensions first — see how that makes you feel," Chloe explained. "I know a lot of women do that to see if they like how it fits or frames their face, so it's nothing too permanent."
The Grammy-nominated duo (via Recording Academy) also dropped tips on how to take care of the protective hairstyle and encourage growth. When it comes to maintaining this natural hairstyle, castor oil is their beauty elixir of choice. "Castor oil is the best for hair growth and keeping the edges together, because our hair does get heavy the longer it gets," Chloe admitted. "And just being happy. I don't know ... happiness helps your growth with everything—spirit, mind, hair, body, whatever."
Why Chloe and Halle's locs mean so much to them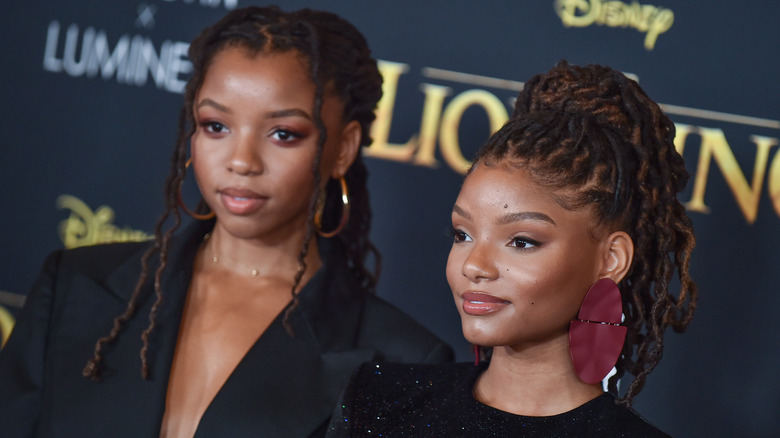 Shutterstock
Chloe x Halle opened up to Glamour about their relationship with their locs. When asked why they love their hair, the "Do It" singers reflected on the huge impact their natural hair has had on them. 
Chloe Bailey shared that her hair serves as an important reminder for her true self, explaining, "It is an extension of me. And because it reminds me of how beautiful I can be naturally." Halle Bailey also explained that she draws strength and confidence from her hair, adding, "It shows what's inside on the outside. I truly feel like it is a part of me, and a part of my strength."
Both singers are proof that getting dreadlocks doesn't mean that you have to stick to one style. They experiment with their hairstyles often. In a 2016 interview with Into the Gloss, the R&B artists detailed their hair routine and secret for getting perfect curls. The trick is to braid your locs if you want them wavy, and twist them every three to four months so they stay fresh.