All The Movies And Shows Where You Can See Flo From Progressive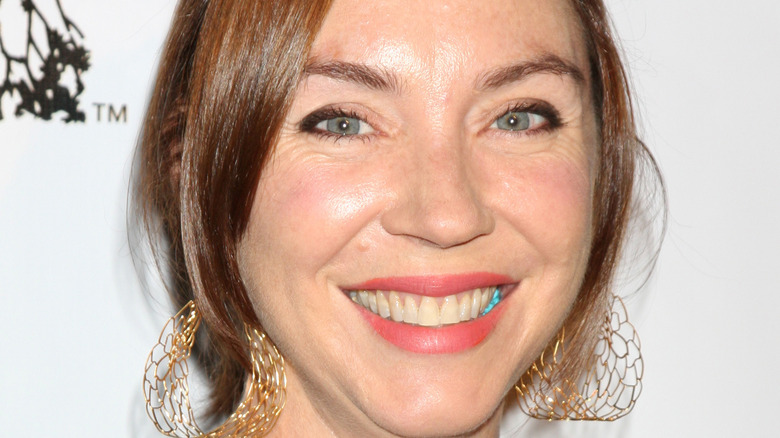 Shutterstock
You may not be able to name anything about Progressive's services or insurance policies, but the chances are high that you could pick their fictional salesperson Flo out of a crowd. The larger-than-life character has starred in the company's ads for well over a decade, joining the ranks of enduring brand mascots such as the Pillsbury Doughboy and Mr. Peanut (via Adweek). All these years later, and viewers still can't get enough of Flo. Copying her signature look has become a popular option for a last-minute Halloween costume — Progressive even released "Your DIY Guide To Looking Like a Brand Icon." But the woman behind the classic red lip, blue ribbon, and 1960s-style bouffant has a name, and it is Stephanie Courtney. There's no doubt that Courtney's comedic genius and ad-lipping prowess is what keeps her character going strong. 
It therefore should come as no surprise that the New York native is a talented and versatile actress in her own right (and she makes a surprising amount of money from her gig as Flo). Before she snagged the role as Flo, she was a main company member of the celebrated Groundlings Theatre & School in Los Angeles and starred in many of its productions (via The Groundlings). Although you'll often find her performing stand-up onstage, Courtney can be seen without all the Flo getup on-screen. Here are all of the shows and films you can spot her in.
2007 proved a monumental year for Stephanie Courtney's career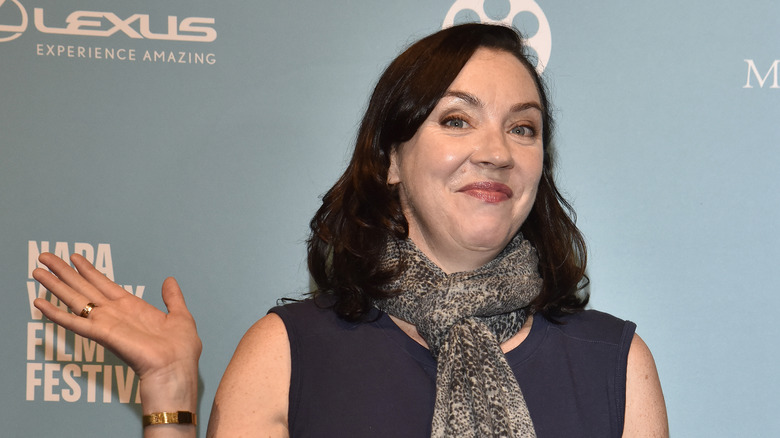 Tim Mosenfelder/Getty Images
Far before Stephanie Courtney was named Progressive's spunky spokeswomen, she began a pretty prolific acting career. Her first credit stretches all the way back to 1998, when she played a waitress in the series "Mr. Show with Bob and David" (via IMDb). After taking small parts in a number of different television shows, Courtney got a regular voice acting part in "Tom Goes to the Mayor." Then 2007 hit, and her career kind of blew up. 
Her first foray into feature films came with the 2007 hit "Blades of Glory." Although it was a small role, it put her on the oh-so competitive comedy map. That same year, she acted alongside Will Arnett and "Saturday Night Live" favorites Will Forte and Kristen Wiig in "The Brothers Solomon," and shared the screen with Ben Stiller in "The Heartbreak Kid." Coincidentally, Malin Akerman also starred in both of those flicks, and we'd like to believe the pair became best friends. 
As far as television shows go, Courtney also played Marge in the premiere season of "Mad Men," Diane in "Cavemen," and gave a hilarious impression of Tina Fey in "Celebrity Deathmatch." Following this immensely busy and successful year, the comedian landed the role for which she'll forever be known, and the rest is history!