Courteney Cox's Daughter Grew Up To Look Just Like Her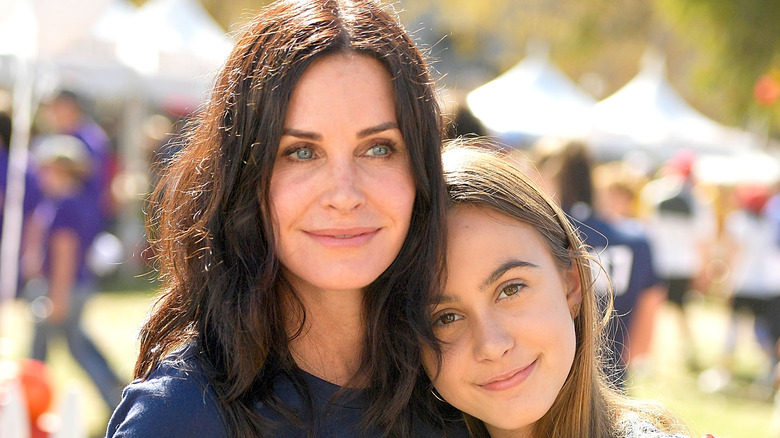 Matt Winkelmeyer/Getty Images
It seems like just yesterday that celebrated actors Courteney Cox and David Arquette welcomed their only child, a daughter named Coco, into the world. Although the couple split up in 2010 after 11 years of marriage, they've modeled co-parenting at its finest ever since (via Glamour). "We've always just made [Coco] the No. 1 priority," Cox told Us Magazine in 2019. "We have respect and love for each other and just [are] on the same page. And [with] Coco, we're just super lucky. As far as teenagers go, it's a bit tricky, but she's got a huge heart and she's really, really a brilliant girl, so we're very lucky."
As hard as it is to believe, their cherished little one just turned 17. To mark the occasion, Cox took to Instagram and shared a series of photos from different points throughout Coco's life. It's the last and most recent pic that has fans awed by the similarities between the teen and her actress mom.
The resemblance Coco bears to Courteney Cox likely won't last long
Courteney Cox's celebratory post is peak proud mom. "Happy 17th birthday to my strong, sensitive, creative, loving, soulful, beautiful, talented, and wise Coco," the "Friends" star wrote. "I love you so much" (per Instagram). Coco's famous godmother, Jennifer Aniston, followed suit by posting her own tribute. Next to an endearing throwback shot of the pair, the actress wrote: "Happy birthday my sweet Cocolicious! Godmama LOVES you," per E!. Coco's dad, David Arquette, shared his own post as well — but it's her mom's post that got fans talking the most. Coco's fresh-faced beauty and brunette locks from the pic bore a striking resemblance to her mother when she was just a budding Hollywood actress.
Apparently, the resemblance won't last long, as Coco frequently switches up her look. Last month on "The Drew Barrymore Show," Cox said her daughter has been experimenting with hair and makeup since she was a young girl. It's "a self-expression for her," she said, per Yahoo. "She loves to dress up. She will dye her hair, it was purple a week ago, I think right now it's blonde underneath before it was blue." For however long Coco rocked the dark brown hair, though, Cox must've felt like she was looking in a mirror!