The Drugstore Mascara That Celebrity Makeup Artists Swear By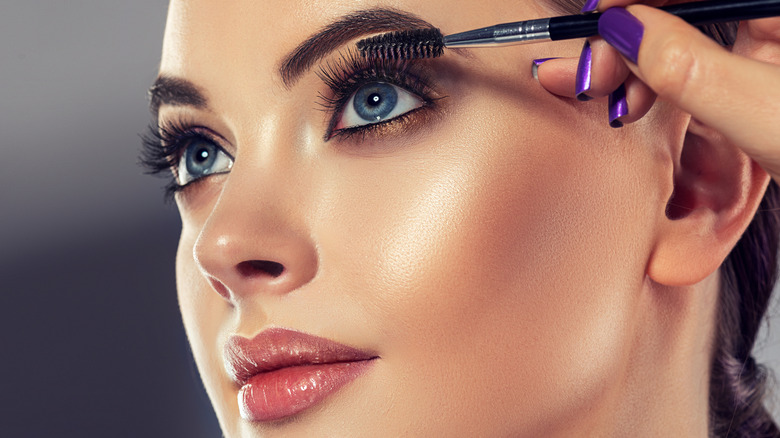 Shutterstock
If you wear mascara, you're probably aware of the wide variety of price points the product comes in. Many people consider it an essential part of their daily routines, but it is easy to make mascara mistakes. Celebrity makeup artist Anthony Nguyen told Vogue, "I love mascara because it makes the eyes pop and enhances your eye shape. It's an essential item for an everyday look, whether it's worn alone for a natural or dramatic look!" The eye enhancer comes in many formulations, with different ones promise to increase volume, lengthen, or define your lashes. However, with all the choices and price points, it can be challenging to know which brand and type to choose. 
If you're struggling to decide on what mascara to buy and where to get it, there's some good news! Byrdie spoke to makeup professionals and got the lowdown on the very best drugstore mascara, which means it's easy to find and affordable to try out the next time you find yourself needing to replace your tube.
Here's the affordable drugstore mascara you should try
Instead of spending north of $25 on fancy mascara, you can grab a new tube of Maybelline Lash Discovery Mini Brush Very Black Waterproof Mascara for under $10 at almost any drugstore or discount retailer. "For years, I've been a loyal devotee to a drugstore mascara," makeup artist Toby Fleischman told Byrdie. "You just can't beat the price, and even after trying the expensive brands, I always seem to fall back on my mass-market favorites." Celebrity makeup artists Brittany Spyksma and Fiona Stiles agreed with Fleischman's choice. These gurus believe that the formulation is one of the best available anywhere at any price point.
Maybelline Lash Discovery is the first mascara that featured a small wand, making it easier to coat even your tiniest lashes to get maximum coverage. Allure noted that the small brush even manages to apply color to the roots of your lashes, which gives you the illusion of a lush lash line. Ultimately, the Maybelline formulation provides a defined and natural look. If you've struggled to find the perfect mascara, try the drugstore brand Lash Discovery from Maybelline.