Meryl Streep Says She'll Never Do This Again After The Devil Wears Prada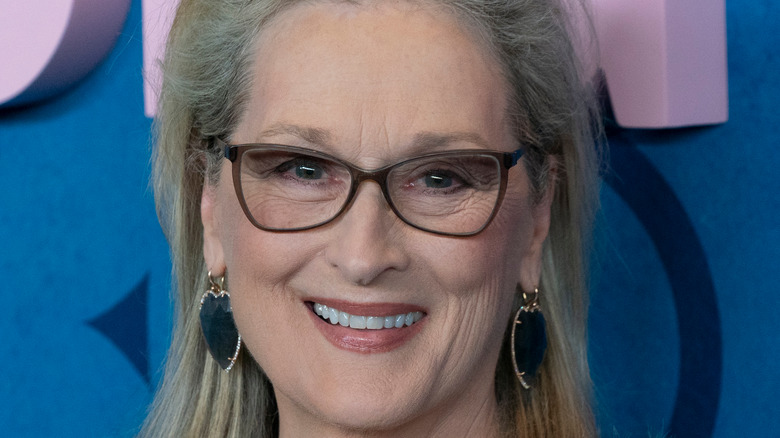 Shutterstock
Meryl Streep's career has lasted nearly half a century, starting with her earliest roles in theater in the mid-1970s. While other actors have made their name playing the same types of roles over and over, Streep refuses to be typecast. She prefers to challenge herself by taking on a variety of characters, both humorous and tragic. Per IMDb, who else could play a Holocaust survivor ("Sophie's Choice"), a drug-addicted actress ("Postcards from the Edge"), a British prime minister ("The Iron Lady"), a world-famous chef ("Julie & Julia"), and a singing witch ("Into the Woods") — and make audiences love her in all of them? This talent has earned her widespread acclaim and a string of honors, including 21 Academy Award nominations and three wins (via Time).
But one of Streep's most well-known roles made her rethink the way she approaches her acting. The Yale-trained thespian threw herself completely into her part at the time, and now regrets doing it, despite the acclaim she got for her performance. 
Meryl Streep took her Miranda Priestly attitude off-camera
Meryl Streep earned well-deserved raves — and yet another Oscar nomination — for her portrayal of Miranda Priestly in 2006's "The Devil Wears Prada." The film follows aspiring journalist Andy Sachs, newly hired as the junior assistant to the editor-in-chief of a major fashion magazine. Miranda's demands on her staff are equaled only by her knowledge of fashion. Though Andy eventually quits her job, she comes away wiser about the nature of the business (not to mention getting some pretty amazing swag).
To get into the proper mindset for playing the imperious Miranda, Streep relied on "method acting." In this technique, actors immerse themselves in the role so deeply that they imagine they are the character themselves. Off the set as well as on, Streep maintained her lofty demeanor — and hated every minute of it. She recently told Insider, "It was horrible! ... I was so depressed. I said, 'Well, that's the price you pay for being boss.' That's the last time I ever attempted a method thing!"
Anne Hathaway and Emily Blunt, who played Streep's overworked assistants, took their costar's attitude in stride, understanding that she was just trying to stay in character. They both say she was never cruel or "unapproachable" when the cameras were off. Blunt adds, "Meryl is so gregarious and fun as hell, in some ways it wasn't the most fun for her having to remove herself." 
In other words, Streep said, "That's all" to overly realistic acting.