Tori Spelling Fuels Rumors Of Marital Troubles With Dean McDermott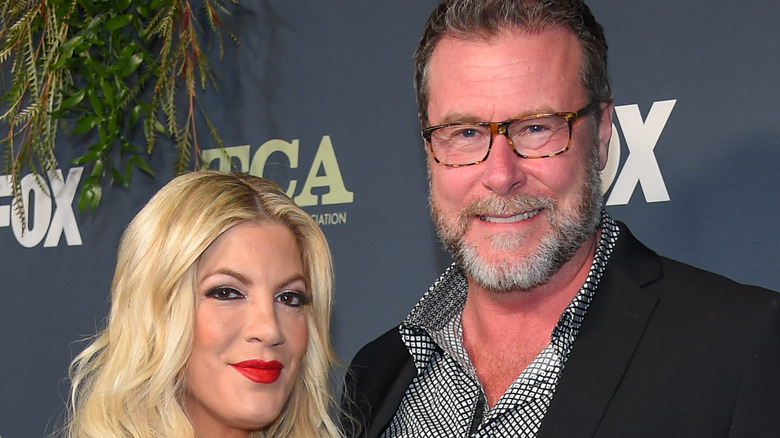 Shutterstock
Tori Spelling may be best known for her roles on "Beverly Hills, 90210" or even her more recent stint on the singing competition series "The Masked Singer," but the actor is also known for her consistent presence in the media. Whether her life is being speculated about or people are commenting on her scandals — let's not forget her 2021 April Fool's Day prank that went awry — Spelling is always being discussed. 
The mother of five is married to Dean McDermott, and as of late, rumors of a disgruntled marriage between the two have circulated the internet. In fact, according to Page Six, fans took her pregnancy announcement at the beginning of April as a sign that the two's marriage was healing. That is, until it turned out to be a prank. 
Spelling has been seen in the past without her wedding ring, which initially kickstarted the rumor mill, but in recent months, the author has been seen wearing it again. This has caused fans plenty of confusion, as their relationship is never clear from the outside looking in. So are they okay now? Have they mended any broken bridges?
Tori says she's "not going to tell" what's going on in her marriage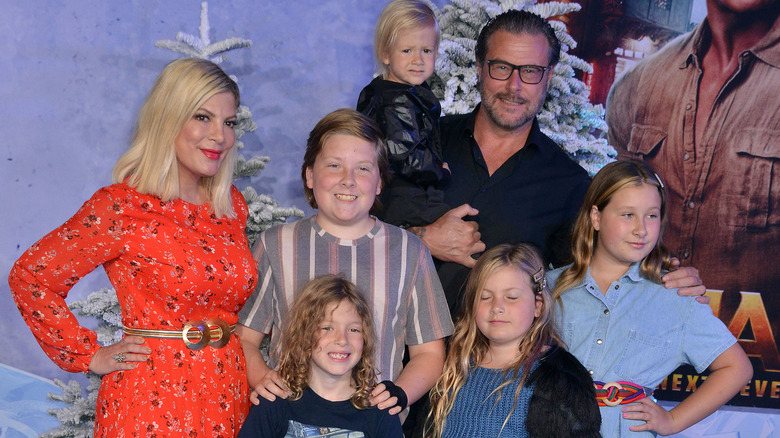 Shutterstock
It may not be that simple. Tori Spelling recently appeared on the Sirius XM radio show "Jeff Lewis Live," where the host Jeff Lewis asked her about her marriage (via People). During this interview, she revealed that she and Dean McDermott, who have been married since 2006, do not currently sleep in the same bed.
Spelling and Lewis shared playful back-and-forth comments with each other, but Lewis wanted to get to the heart of the matter. For example, Lewis assumed that Spelling would have told him if there was any trouble in her marriage, to which she responded, "No, 'cause then you spill my s**t right here. Of course I'm not going to tell you what's really going on." She said this with a laugh but we understand the sentiment. It can't be easy to have your entire life discussed by the world.
Spelling then explained that her children and dogs sleep in her bed with her, while her husband sleeps in "a room," per People. Lewis prodded to see if she meant a guest room, but held firm with "a room." She then explained that McDermott was gone filming something for six months, and in that time her kids began sleeping with her. When he returned, she simply never made them leave.
The status of Spelling and McDermott's relationship is unclear, but what is clear is that the two not sleeping together is fueling the rumor mill surrounding them.