Inside A.J. Cook's Friendship With Criminal Minds Co-Star Matthew Gray Gubler
Araya Doheny/Getty Images
Fans of "Criminal Minds" know that on screen, there's more to Jennifer "J.J." Jareau and Dr. Spencer Reid's relationship than meets the eye. The characters, played by actors A.J. Cook and Matthew Gray Gubler, respectively, even have their own set of shippers, called "Jeiders," longing for a romantic relationship between the two characters (via TV Guide). From the very beginning, there was always something between J.J. and Reid, with the pair going on a date in Season 1. Later, in the finale of season 14, "Jeiders" get a glimpse of what they're looking for (though some other fans of the show were notably unhappy with the plot twist featuring J.J. and Reid).
So with their characters having such a connection on screen, it's only natural that Cook and Gubler would develop a friendship off screen as well.
Cook has previously taken to Instagram to wish Gubler a happy birthday, writing, "Happy birthday to the cooooooolest guy I know." In another post, Cook didn't hesitate to call Gubler "the most joyful person I know," while sharing a picture of them all smiles.
The pair clearly enjoyed their time on set together, finding opportunities for fun between takes. "@gublergram once again proves, once a model, ALWAYS a model. #smolder," Cook captioned a photo of them on set, with Gubler mugging for the camera.
Is there more to the friendship?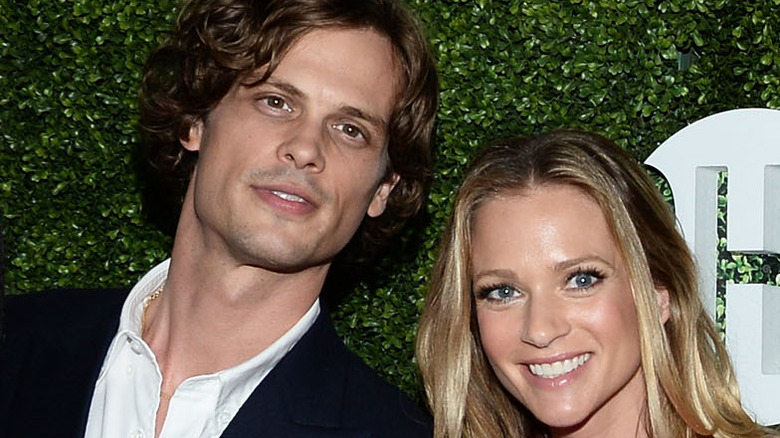 Matt Winkelmeyer/Getty Images
While J.J. and Reid's friendship might have always had romantic undertones, A.J. Cook and Matthew Gray Gubler appear to really be ... just friends. In fact, during a 2015 interview with Glamour, Gubler said Cook was "like a sister" to him. It also helps, of course, that each of them have their own separate love interests.
Cook has been married to her husband, producer Nathan Andersen, for almost 20 years (via Paramount+). The pair first met in college at Utah Valley University and have two sons, Mekhai and Phoenix. Mekhai appeared alongside his mom on a number of episodes of "Criminal Minds," playing J.J.'s son, Henry. 
While Gubler appears to be single today, he has in the past been linked to stars like Kat Dennings and Taylor Swift, both of whom would have made incredible "Criminal Minds" guest stars, we have to say (via Distractify).