Here Are Lupita Nyong'o's Beauty Must-Haves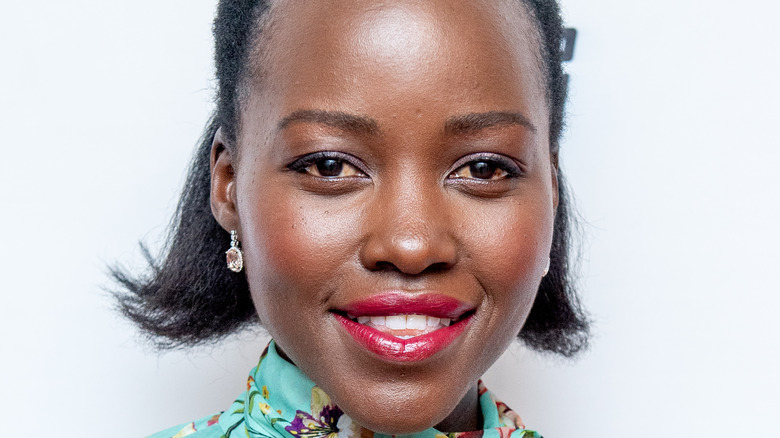 Roy Rochlin/Getty Images
Academy Award-winning actor Lupita Nyong'o takes risks in each project she's a part of, and her fearlessness pays off every time. She's garnered an impressive list of accolades, including getting much-deserved praise for her groundbreaking role in "12 Years a Slave" – which led to her becoming the first Kenyan and second African woman to win an Oscar, as reported by ABC News. The Kenyan-Mexican actor has paved the way for the Black community to feel more seen in Hollywood.
Nyong'o's work in the beauty industry has made just as many waves. In 2014, she made beauty history as French cosmetics brand Lancôme's first Black ambassador (via BBC). Per Vogue, Nyong'o has been vulnerable and open about her experience as a Black woman with darker skin and how this impacted her own perception of her beauty. The Hollywood Reporter interview where a talent agent made tone-deaf comments comparing her marketability to lighter-skinned artists like Beyoncé is a prime example of that.
Getting a glimpse of her beauty routine seems so simple, but is another way that Nyong'o is providing more visibility to Black beauty. Per Women's Health, the beauty icon experiments with makeup often, but also prefers keeping her skincare routine simple. 
These are the beauty products in Lupita Nyong'o's makeup bag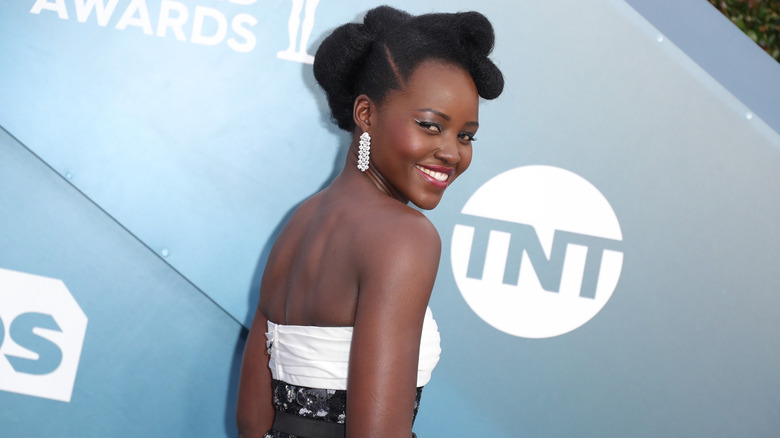 Leon Bennett/Getty Images
Lupita Nyong'o's Instagram page is filled with shots of her flawless makeup and glossy skin. In one picture, the Lancôme ambassador dumped the contents of her handbag and showed off her favorite products from the beauty brand. She captioned the post "Bare Necessities" as a cheeky throwback to her role in Disney's 2016 film "Jungle Book." Per People, Nyong'o swears by Lancôme's Juicy Shaker Pigment Infused Bi-Phase Lip Oil, Shine Lover Vibrant Lipstick, and an unidentified makeup palette. She also carries bobby pins and an afro hair pick with her for easy touch-ups.
We hunted down the exact color, and her makeup artist Nick Barose revealed that her go-to shade from the cosmetics brand is "Berry in Love" (via Style Caster). During her red carpet appearance for 2017's "Star Wars: The Last Jedi," Barose layered the fuchsia juicy shaker over Lancôme's Lipstick Color Design Lipstick in the shade "Hit List." We can't get over how that fuchsia lipstick makes her complexion pop.