The Real Reason Toni Morrison Hated Hamilton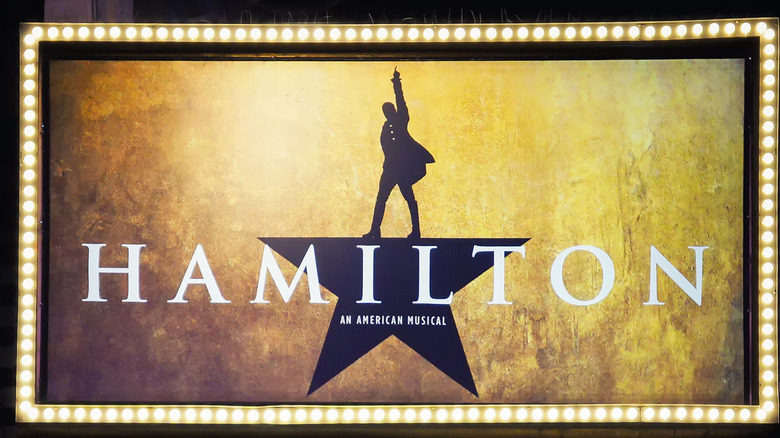 Shutterstock
"Hamilton" is one of the most acclaimed musicals of our time. The Lin-Manuel Miranda-composed musical premiered on Broadway on July 13, 2015 and soon found itself with 16 Tony Award nominations and 11 wins, including one for Best Musical, according to Playbill.com. Since then, "Hamilton" has gone on to success with a touring production across the United States, as well as critical acclaim on London's West End (via West End.com). However, that doesn't mean everyone has loved it. In fact, late author Toni Morrison hated it for the same reason many people have adored it.
The musical uses a multicultural cast to tell the story of the Founding Fathers, with Alexander Hamilton as its focal point. Lin-Manuel Miranda, who is of Puerto Rican descent, played Alexander Hamilton on the original production, with Black actors Christopher Jackson and Leslie Odom, Jr. playing the parts of George Washington and Aaron Burr, respectively (via Broadway World). It was casting Black and brown performers in the roles of white men that disturbed Morrison so much she funded a play that basically picked it apart.
Toni Morrison made sure a playwright had his say about Hamilton
Todd Plitt/Getty Images
Morrison, who passed away in 2019 and was known for the books "The Bluest Eye," "Song of Solomon," and "Sula" (via Biography), helped fund Ishmael Reed's production of a play "The Haunting of Lin-Manuel Miranda". The play, which ran in 2019, is told in the spirit of "A Christmas Carol" where the Founding Fathers visit Miranda as ghosts and help show him the error of his ways, reports Newsweek. So, what did Morrison and Reed think was the error of the composer and performer's ways?
"They cast Black people in order to defend projects that [Black people] might find objectionable. It sort of distracts from the racism of the white historical characters," Reed told Current Affairs.org (via Newsweek).
While the show does portray Hamilton as being against slavery, the Constitution Alexander Hamilton defended in the Federalist Papers did condone the practice and count slaves as three-fifths of a person.
As for Miranda, he defended criticisms of the show and what it left out in a July 2020 tweet, after a live production of "Hamilton" filmed for movie theaters began streaming on Disney Plus when COVID-19 restrictions prevented its box office release (via Variety).
"All the criticisms are valid. The sheer tonnage of complexities & failings of these people I couldn't get. Or wrestled with but cut. I took 6 years and fit as much as I could in a 2.5 hour musical. Did my best. It's all fair game," he said.