Shanna Moakler's Surprising Response To Being Compared To Kourtney Kardashian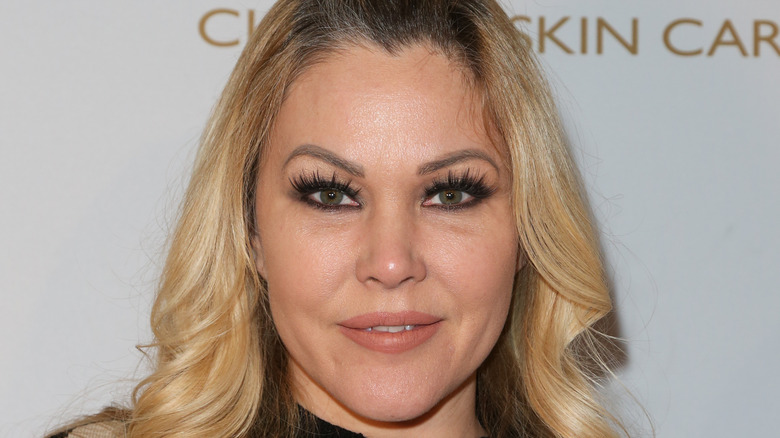 Paul Archuleta/Getty Images
It's been rumored that Shanna Moakler is feuding with Kourtney Kardashian for months, ever since the former's ex-husband Travis Barker started dating the reality star. Moakler and Barker were married from 2004 to 2008, and share two children (via Us Weekly). With the high-profile nature of the Blink-182 drummer's romance with Kardashian, it wouldn't be too far-fetched to think there is some tension between Barker's ex-wife and his current girlfriend, especially considering recent chatter that the two are talking about an engagement (via Nine.com and Heavy).
But when Moakler shared a photo of herself and her mom from when she was growing up, a fan noted she resembled Kardashian and Moakler's reaction is not what you might expect (via Life&Style). "Literally your mom looks like Kris and you kinda like Kourtney here hehe .. " the follower commented, adding, "but of course your prettier and have a better personality." 
Moakler didn't take the bait and instead shared a gracious response.
Shanna Moakler isn't even remotely offended by being compared to Kourtney Kardashian
Rather than creating any drama, Barker's ex noted in response to the fan comparing her to Kardashian on Instagram, "my mom and I are older they look like us.. still a compliment."
It's worth noting other fans also saw the same resemblance, with another commenting, "Your mom looks like a Kardashian," and yet another follower noting, "Damn thought that was Kris J at first." "Kris Jenner wishes she looked like your mama," another fan snarked.
But it seems someone else felt Moakler's mom was a doppelganger for another star, commenting, "Your mom kind of looks like Joyce DeWitt from three's company."
Meanwhile, over on Kardashian's Instagram, she posted a shot of herself making out with Barker, with his daughter with Moakler, Alabama, commenting, "My favorite couple." 
Well, looks like there's still an opportunity for a feud after all...