The Real Reason Andy Kaufman Was Banned From SNL
Michael Ochs Archives/Getty Images
Despite his relatively short-lived career due to a tragic death at a young age, Andy Kaufman is one of the most legendary comedians of modern times and that's because he was different. Rather than just getting on a stage and telling some one-liners, Kaufman created characters and created unusual one-man skits in which he played multiple characters at a time, as portrayed in the 1999 biopic "Man In the Moon" (via IMDb). While his brand of off-beat comedy may have seemed perfect for the early days of "Saturday Night Live," Kaufman was actually banned from "SNL" in 1983 — thanks to the show's own audience.
Although Kaufman was never a regular cast member of "SNL," he was associated with the late night comedy sketch show from the start, having appeared on its very first episode in 1975, according to Biography. In fact, Kaufman's version of "The Mighty Mouse" theme song on the show became legendary. His appearances on "SNL" led him to a classic sitcom gig, playing Latka Gravas on "Taxi" but he didn't abandon his "SNL" roots despite Hollywood success. It was "SNL" that abandoned him.
Andy Kaufman stayed unique and left things up to the audience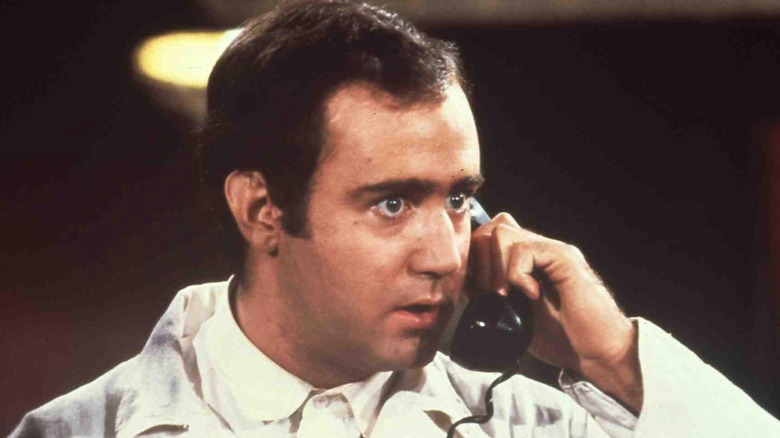 United Archives/Getty Images
It was the show's producer, Dick Ebersol, who was not happy when Andy Kaufman did a sketch about wrestling women. He then banned him from appearing on "SNL" again but Kaufman took things a step further, according to Mental Floss.
It was 1982 and Kaufman thought it should be left up to the audience and expected they would want to see him back, so "SNL" conducted a poll and surprisingly, it was Ebersol who won. When the "Keep Andy" votes were counted, there were 169,186. However, when the "Dump Andy" votes were counted, there were 195,544 so Andy was indeed dumped.
Sadly, it turned out even if "Keep Andy" had won, Kaufman wouldn't have appeared on "Saturday Night Live" much longer. His last appearance on the Saturday night comedy show was on January 22, 1983, according to Ultimate Classic Rock. On May 16, 1984, Kaufman passed away after a battle with lung cancer (via Biography).