The Hair Accessories That Rosie Huntington-Whiteley Swears By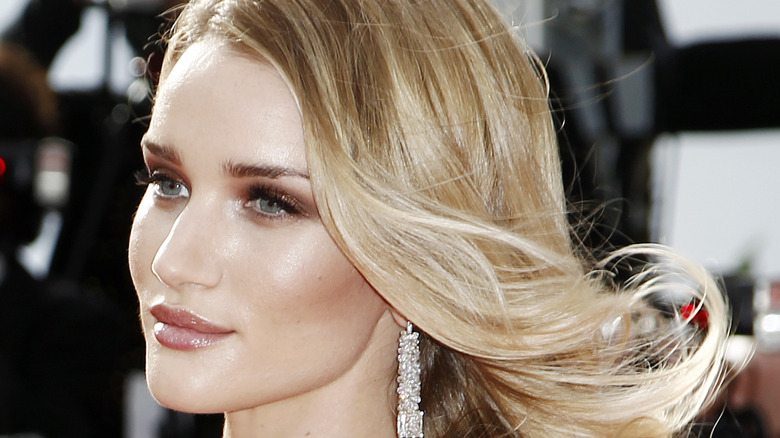 Shutterstock
We may receive a commission on purchases made from links.
The rich and famous have whole teams of talented people at their disposal, whether it's makeup artists using the best tools in the business or hairstylists whose salons likely don't even take bookings from regular riff-raff. Celebs have a head-start on looking great. However, they're still just like us in many ways, as the old adage goes, and they've got plenty of tips to share about keeping their beauty intact while slumming it at home — sometimes, their top picks don't even break the bank. 
Model and actress Rosie Huntington-Whiteley is one of the most beautiful women in the world, so any beauty tips she offers us mere mortals should clearly be taken as gospel. Anointed a Victoria's Secret Angel, the British beauty has since turned her attention to business, with her own Rosie Inc. (as per Grazia magazine). No matter what she's doing, Huntington-Whiteley's golden locks flow elegantly behind her. Now we know exactly how she protects her hair and ensures those tresses stay silky soft.
Silky soft scrunchies lead to silky soft tresses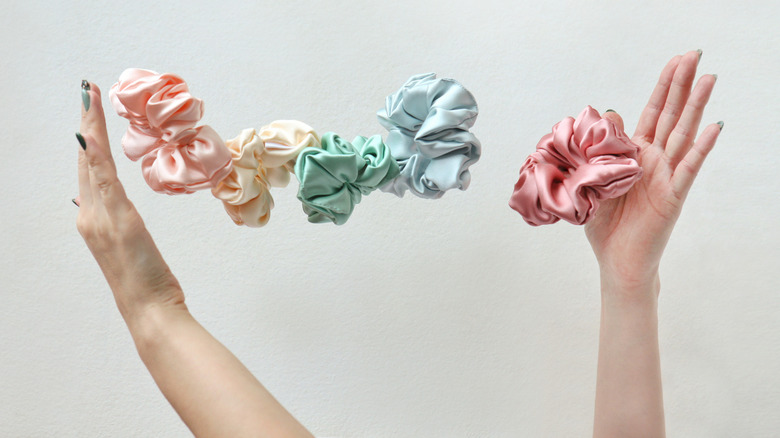 Shutterstock
As Pop Sugar notes, model turned businesswoman Rosie Huntington-Whiteley swears by silk scrunchies to protect her hair and prevent unnecessary breakage. Huntington-Whiteley's chosen brand, Slip's Slipsilk Scrunchies, retail for $39 for a three-pack from Sephora, and judging by how good her hair looks, they're a worthy investment. The luxurious hair ties reportedly "cause no dents, pulling, or damage," so they're ideal for regular wear as well as to sleep in. Silk scrunchies have been a celebrity staple for a while now. As Shape notes, Huntington-Whiteley's favorites are designed by the same company that makes the miracle silk pillowcases that reportedly fight against ageing and frizz. 
Their scrunchies are "made from 100 percent pure mulberry silk, meaning they are gentle on your tresses and won't leave you with annoying creases." Shape suggests cleaning them regularly but never putting the scrunchies in the washing machine, presumably to keep them silky smooth. Kim Kardashian is another famous fan of Slip's silk scrunchies, gushing, "I love these hair ties. They're the new scrunchies that I'm using all the time," in an Instagram story, according to People. Her mother, Kris Jenner, and sisters Kendall and Kylie Jenner are reportedly converts as well. Considering all of these famous ladies are known for their gorgeous hair, maybe silk scrunchies really are the way to go.