Is Too Hot To Handle's Host Lana A Real Person?
Shutterstock
Netflix's "Too Hot to Handle" got us through the first stages of the COVID-19 pandemic, and now it's back to see us through its vaccination stages. Season 2 of the reality competition series lands on the streaming giant on June 23, 2021, and back to oversee the season's new lovebirds is the robot Lana. But is she really a robot? 
"Too Hot to Handle" sees contestants fighting for a grand prize of $100,000 — only the cash gets deducted from the prize money every time someone kisses, has sex with, or, really, touches another contestant. Well, cuddling is allowed, but that's different, at least in the producers' eyes. Contestants are surveilled at all times, and they all wear microphones at all times. If it sounds like a weird, overly intrusive summer camp full of sexy people who have to follow a bunch of rules, well that's because that's exactly what it is. It's Lana that oversees the contestants on their Turks and Caicos getaway, but it may not be Lana that's actually communicating with them.
The explanation for Lana's name may surprise you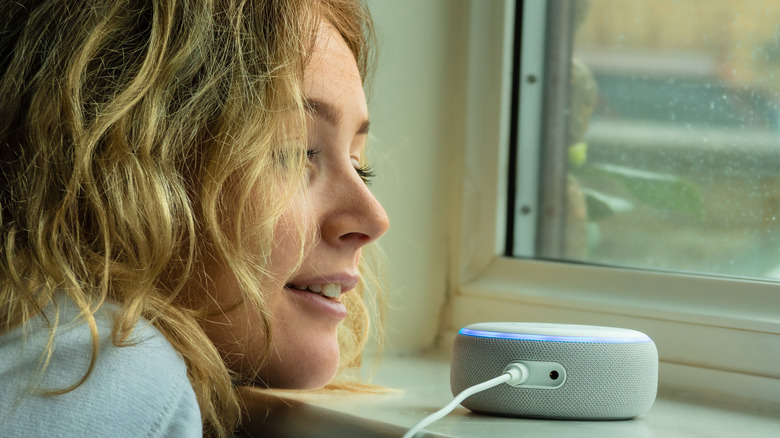 Shutterstock
From a viewer's point of view, Lana seems sentient. She speaks to the contestants, declares the show's rules, etc. She can be seen and heard in the Season 2 trailer, telling the new batch of contestants the rules of the game, to which they all act surprised despite knowing what they signed up for. Her design is simple but effective, and this should be viewers' first hint that everything may not be as it seems.
According to Capital FM, Lana is but a speaker. Capital FM explained it as Lana being akin to Amazon's Alexa. A team of digital sound experts created Lana and her unique sound that producers then play through her for the contestants. However, she's not the only voice on the show. Comedian Desiree Burch provides the series' voiceover (via Entertainment Daily). According to Elle, Burch is such a funny and sassy narrator that she's even told Lana she was too shady before (via Elle). The series presents itself as one that helps people make meaningful connections with each other, so the fact that Lana's voice is synthetic and she's just a speaker is quite fascinating.
But why Lana? While the contestants aren't allowed to have sex, the producers sure explore their own dirty minds. In April 2020, Netflix provided the world with an explanation for Lana's name, and it's probably not what you're thinking. They tweeted, "If you found yourself watching 'Too Hot To Handle' and wondering where we got the name Lana from ... reverse it." This NSFW answer is on brand for the streaming giant, but did shock some.
At the end of the day, Lana may be just a speaker, but she keeps us entertained. That's all we could ask for, right?