Why Kate And William's Father's Day Message Has The Internet Buzzing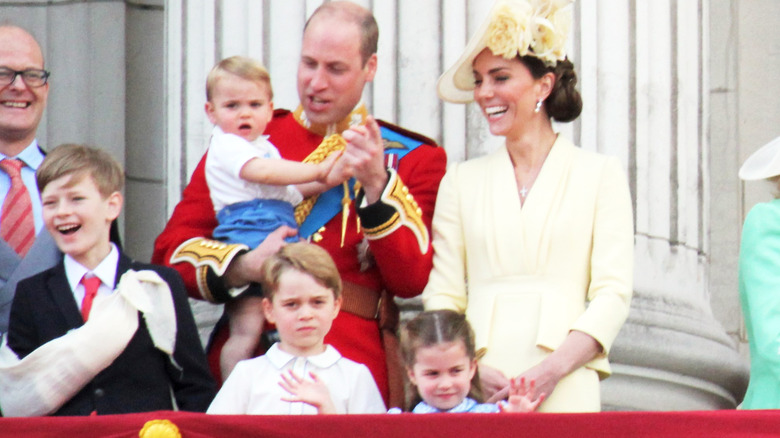 Shutterstock
It's become common practice for Prince William and Kate Middleton to use special occasions to release new or never-before-seen images that can set social media tongues wagging, and Father's Day 2021 was no exception. In a video shared on both their Twitter and Instagram accounts, the Duke and Duchess of Cambridge shared a short video with a simple message that read "Happy Father's Day" posted on a corkboard. 
The video is brief and shows three previously seen images of Prince Charles with young William and Harry, Kate Middleton and her father Michael on her wedding day, as well as a photo of Queen Elizabeth and the late Prince Philip with the great-grandchildren, which was first shared after the latter's death some months ago.
But what made the internet sit up and take notice was a photo of Prince William and his children, which was taken after Prince Louis' first Trooping the Colour in 2019 (via Harper's Bazaar).
The Cambridges show off a never-before-seen photo of Prince William, children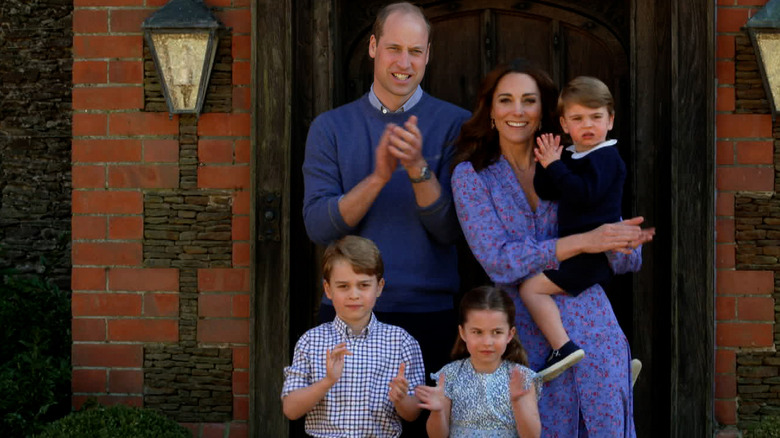 Comic Relief/Getty Images
In a sweet, unexpected image, Prince William is seen carrying Prince Louis, while Prince George and Princess Charlotte are hanging on to either side of their proud papa. The video tribute, which has picked up more than 1.2 million likes on Instagram (as of this writing), with fans pleading for the photo to be released. "Please Release that picture with prince William and the kids..it's so sweet," said one Cambridge fan on Instagram. "That new picture on the bottom left is so beautiful!!! We need it in HQ happy father's day to our Duke of Cambridge, to Prince Charles and to Michael Middleton! Amazing dads," says another.
The "new" photo also won praise on Twitter, where one fan posted: "I love that photo of George and Charlotte holding your legs on Trooping day with you holding Louis in your arms, proving how much your children love you and what a wonderful Father you are, William."
One Twitter post was not just a shoutout to Prince William, but also to his father, Prince Charles. "Happy Fathers Day to you I'm sure the children will do some lovely drawings for you today. I know you will spare some time to call your Papa and show him some love today. Being a single parent isn't easy no matter who you are. He did a good job and so are you," the social media user said.