This Is Halle Berry's All-Time Favorite Skincare Tool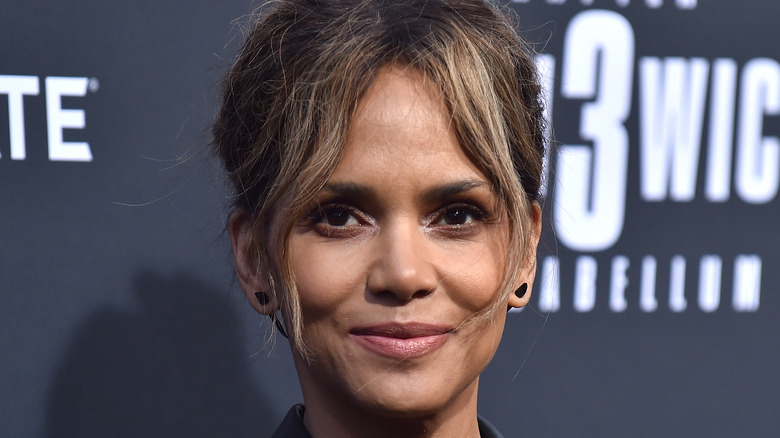 Shutterstock
Halle Berry has been an A-list actor for so long now that she is, without question, a legend. Not only has she embodied roles as wide-ranging and varied as Storm in the X-Men franchise and a bonafide Bond Girl in Die Another Day (via Screen Rant), but in 2002, she made history by becoming the first black woman to ever win an Academy Award for Best Actress for her work in Monster's Ball (via The Brag). 
She has also done a great deal of activism working with organizations that help survivors of domestic violence and abuse (via All VIPP), and she has been very vocal about her disappointment that since her groundbreaking win nearly twenty years ago, no other black woman has yet been awarded the Best Actress Oscar (via The Brag).   
In short, Berry is far, far more than just a pretty face. That said, she sure does have a very, very beautiful face. Now in her fifties, she glows is a unique beauty all her own. If you've ever wondered what tools she uses to get her signature understated-yet-glamorous look, we are happy to tell you she has let everyone in on a secret!  
The beauty tool Halle Berry swears by
While Instagram is flooded with celebs who are paid to be brand embassadors for various beauty products, Halle Berry took to IGTV, apparently without a sponsorship, to share the tool she is most excited to use in her cleansing routine: the Flawless Cleanse Hydro-Vibrating Facial Cleanser by Flawless Beauty (via Women's Health).
Berry says the cleansing brush has "soft, soft" silicone bristles, and points out that the vibrating motor helps to cleanse the skin more thoroughly than a stationary brush or hands alone. "It actually helps the dirt and oil become dislodged ... at the same time, it protects your skin," she says. She also admits aesthetics of the product isn't lost on her and calls the tool "stinking cute." 
Berry says she uses the brush with either a regular cleanser or a scrub cleanser, depending on her mood, and she says of the experience, "This feels so good...so stinking good, and it's so gentle ... It's like giving your face a hug."