Inside Simone Biles' New Record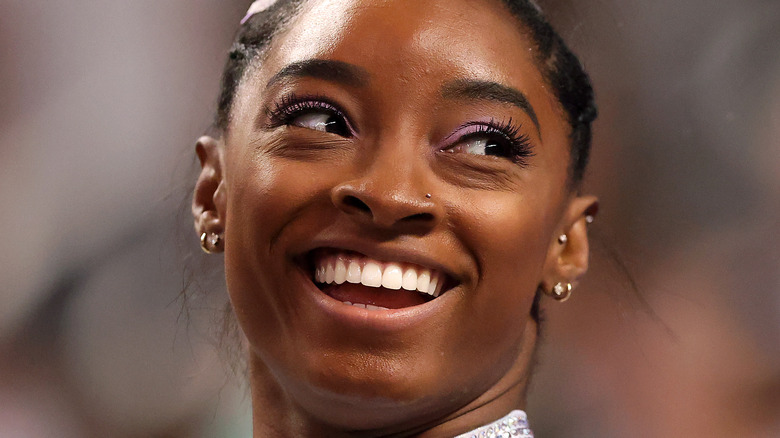 Jamie Squire/Getty Images
Simone Biles is no average athlete. She stole America's hearts with her performance in the 2016 Brazil Summer Olympics. The gymnast has a combined total of 30 Olympic and World Championship medals and is the most decorated American gymnast and the world's third most decorated gymnast. In 2016, she was also the first woman to win four straight all-around titles in over four decades (per USA Gymnastics).
In June, Biles made headlines when she claimed her seventh National Championship win, according to Pop Sugar UK. On June 6, the famed athlete won 1st place once again with a score of 119.650. She broke the record that was previously held by fellow American, Clara Schroth-Lomady. She won by five points and is a favorite for the Olympic team. The 24-year-old told fans, "It's really emotional especially going into my second time doing an Olympic run. It's really crazy, and I appreciate everyone that's come out to watch and support us especially after the year we've had."
Simone Biles takes the gold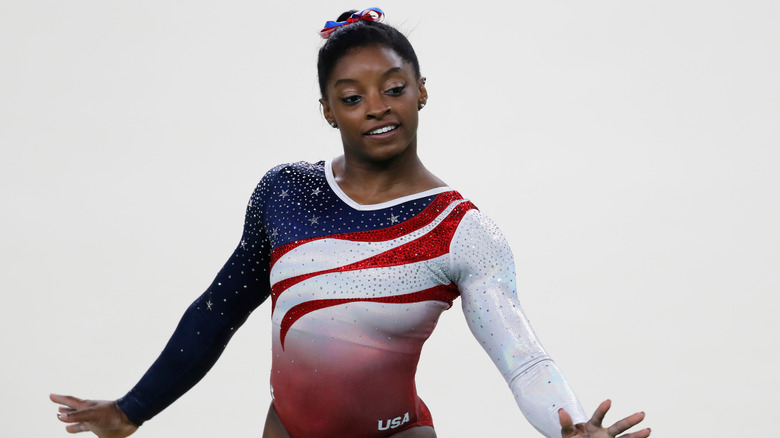 Shutterstock
According to Pop Sugar UK, Simone Biles "won by almost five whole points." She came in 1st on the floor and the beam, although this time around, she didn't perform the amazing Yurchenko double pike vault she's known for. Some of the highlights of her record-breaking routines included the "roundoff on the springboard with a half turn onto the vaulting table and one and a half twists in a laid-out position" as well as her floor routine, containing "one of her signature skills: a triple-twisting double backflip." Not surprisingly, Biles nailed it (as she does nearly everything).
In preparation for the upcoming Tokyo Summer Olympics, Simone Biles is featured in "Glamour" in a patriotic-themed photo shoot (via The Hill). Biles wanted to show readers that being patriotic can come in many different forms. The photo, which was shot by Kennedi Carter, captured the Olympian wearing the country's colors in her hair. The photographer told readers, "I wanted to do something that would reference the aesthetic of America. I wanted to show that patriotism isn't just about a flag, but other things." 
As for Biles, she is gearing up for the individual and team events that are set to start in 32 days (via USA Today). For sporting fans, Biles says the goal is more about competing against herself as she is expected to lead the women's team to another gold medal.