This Jaw-Dropping Move By Simone Biles Has Gymnastics Fans Buzzing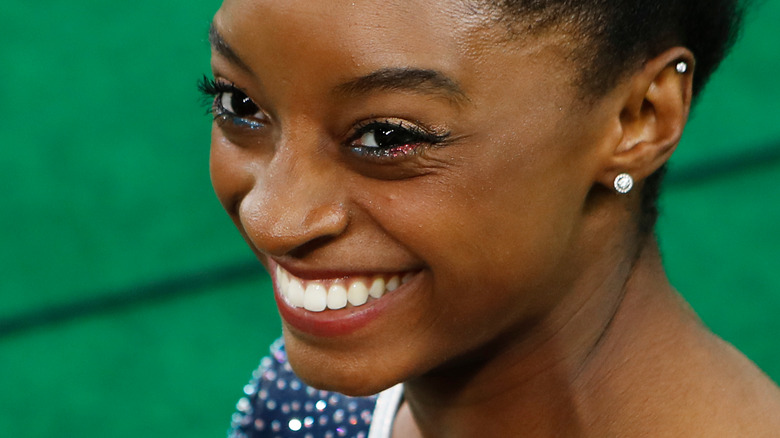 Shutterstock
Simone Biles is undeniably one of the greatest champions gymnastics has ever seen — and she just keeps outdoing herself. During the U.S. Classic this weekend, the five-time Olympic medalist was the first female gymnast to complete a Yurchenko double pike in competition. The now-viral video of Biles nailing the difficult vault move is being shared by fans worldwide, and amps up the excitement for her performance at this summer's Tokyo Olympics. 
Despite her historic performance, Biles previously told People that she wouldn't be attempting the move at the Olympics. "In gymnastics, almost everything has been done so when you push boundaries there is a risk factor — risk vs reward," she told the outlet in March of 2020. "Gymnastics can be a dangerous sport so you have to be smart. I'm glad I have great coaches that guide me, help me be creative and push those boundaries."
However, in a recent interview with Texas Monthly, the gymnast hinted that the Yurchenko double pike just might be a possibility at the Olympics. "I feel like it might be a better bet to do it in the all-around final because you do get that one-touch warm up, rather than vault finals where you don't," she said. "I feel like we just have to go in and weigh the options, see what's smart, get a feel of the vault."
The video of the impressive move has gone viral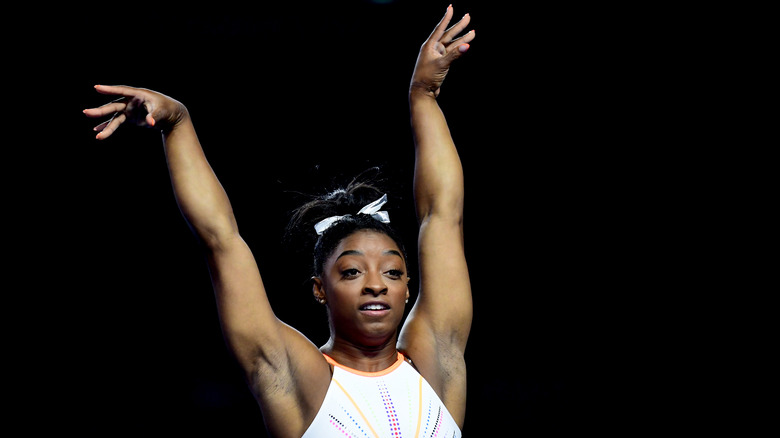 Emilee Chinn/Getty Images
The world was ready and waiting to watch Simone Biles attempt the Yurchenko double pike at the U.S. Classic, as the champion was spotted practicing the move during a training session on Friday (via The Washington Post). However, seeing her successfully complete it in competition isn't any less impressive. A clip shared by the Twitter page for NBC's coverage of the Tokyo Olympics has garnered over 2.1 million views, and it's easy to see why. Biles, whose leotard is emblazoned with a rhinestoned goat (to represent the acronym for "greatest of all time"), seems to effortlessly float over the vault before landing the challenging move.
After the competition, Biles told NBC Sports: "I was just thinking, do it like training. Don't try to like overdo anything because I have a tendency, as soon as I raise my hand to overpower things and I did a little bit, but I was still on my feet. It's a new vault and I'm proud of how today went even though it was a little bit rough and uncharacteristic but it was okay" (via People).
Biles also noted her appreciation for fans' support. "Yeah, it is everywhere," she said about the viral video. "It's pretty crazy but it's also nice to see all the support from all over the world."