How The Pandemic Has Impacted Girl Scout Cookie Sales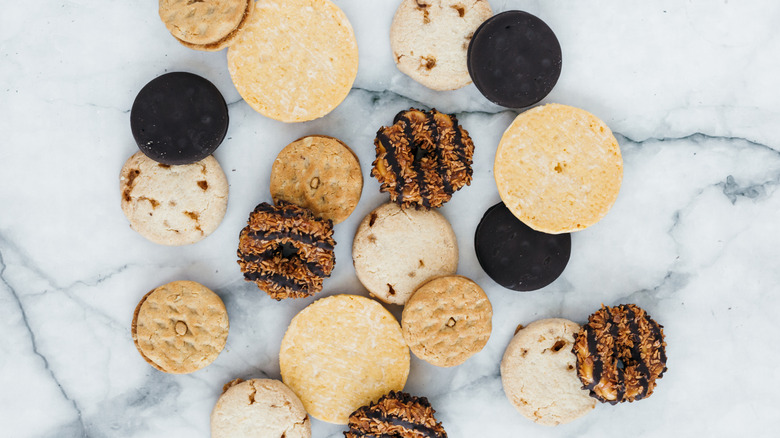 Shutterstock
Whether you're a Samoas fanatic or a Thin Mints lover, it's safe to say Girl Scout cookies are an age-old tradition we still can't get enough of. Marking springtime, these cookies make the season just a bit sweeter, and the only thing controversial about them is whether you like healthy-ish Cranberry Citrus Crisps or not (via Delish). This year though, Girl Scout cookie sales have taken a serious hit — and although we'd be happy eating them in droves, the numbers may shock you.
As per NPR, Girl Scout cookie sales have been seriously impacted by the pandemic, leading to a surprising amount of unsold boxes. These cookies are traditionally sold in-person, harking back to 1933 with the troops' go-to cookie drives, door-to-door sales, and even mall booths (via Girl Scouts). However, as pandemic restrictions and social distancing measures continued, troops could not make sales like they used to, closing down their booths. As Girl Scouts spokeswoman Kelly Parisi explained to NPR, "given this is a girl-driven program and the majority of cookies are sold in-person, it was to be expected." 
The Girl Scouts depend almost exclusively on cookie sales to fund their programs, normally selling a whopping average of 200 million cookie boxes a year, which translates into roughly $800 million. Needed for travel, camping, and more, the troops will certainly feel the unfortunate decrease in sales, which is way more than we ever thought.
Girl Scout cookie sales have fallen drastically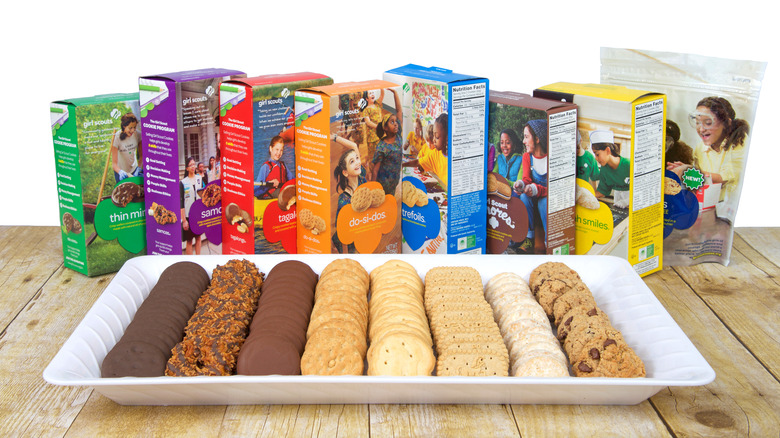 Shutterstock
Although the pandemic is the main culprit for Girl Scout cookies' sales decrease, there may be a couple other reasons at play, too. As per New York Times, membership has declined, leading to less troops selling the famous baked treats. Girl Scouts executive Tish Bolger told New York Times that membership dropped because they could not recruit girls at school, since most were learning at home. While Girl Scout membership has been slowly dropping in the last 10 years, this year showed the lowest rate of all, and the lowest cookie sales.
So how many Girl Scout cookie boxes were left unsold? Shockingly enough, there are 15 million leftover cookie boxes, with 12 million still at the Girl Scouts' Kentucky and Indiana bakeries. The remaining 3 million are divided between the individual Girl Scout councils, and will expire in less than a year (via NPR). Although entrepreneurial troops have tried selling them off in the last months through contactless pickup, drive-thru booths, and even a partnership with GrubHub, they weren't enough to get people buying like before.
In response, the Girl Scouts have started a Hometown Heroes program where people buy cookie boxes online to donate to first responders, healthcare workers, military personnel, and more (via Girl Scouts). While also planning on donating or selling the leftover cookies to the military, food banks, and even prisons, we're just happy those delicious cookies won't go to waste.