Here's What Madison Beer's $5.6 Million Mansion Looks Like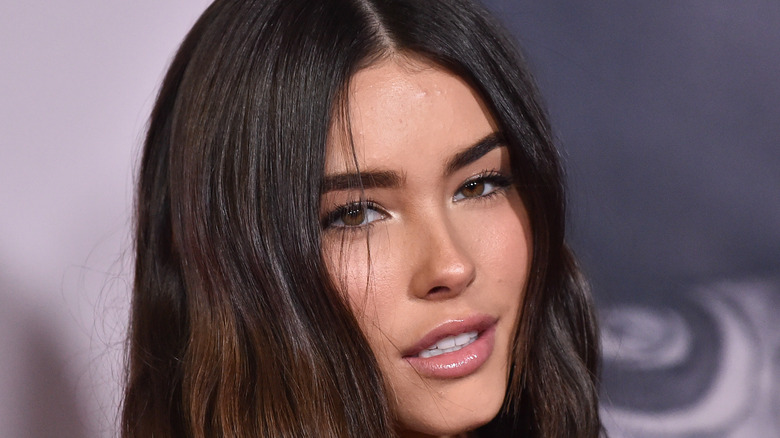 Shutterstock
Being able to buy a mansion worth over $5 million when you're barely out of your teens is no easy feat, but singer Madison Beer managed it in 2020 at the age of 21 when she bought her two-story mansion in the Los Angeles neighborhood of Encino (via Variety). The young star is in famous company, with other local residents including Selena Gomez, Gwen Stefani, and Kelly Clarkson, but what does her own house look like? 
The house was never officially on the market and Beer is its first owner, so there aren't as many details and photos of the property as you might expect. However, being a farmhouse-style building, built by local real estate investors, the singer and influencer's house is likely to be open-plan with tall windows, and a rather light and airy design inside. 
What more do we know about Beer's mansion, though? Let's go deeper to see what else she's revealed since first moving in. 
Her two-storey house boasts a swimming pool and spa
Before moving in, Madison Beer was seen inspecting her new pad (via The Things), and not long after moved in for real. 
The farmhouse-style property, which boasts a charcoal color, has two stories and there's a guesthouse in the backyard too. Not only that, but there's also a covered poolside cabana and of course a pool, in case Beer or any of her famous pals feel like taking a dip (via Variety). It has a spa, too. The property is ultra-secure, with walls and gates for protection and privacy, as well as an advanced security system. 
We might not know a whole lot about Beer's mansion — barring the occasional glimpses we're offered on her social media — but one thing we do know is that it's sure to be just as jaw-dropping on the inside as it is on the outside. According to Celebrity Net Worth, the social media influencer and singer is worth a cool $16 million, so she can decorate her pad exactly how she likes.