How To Really Get Rid Of Tan Lines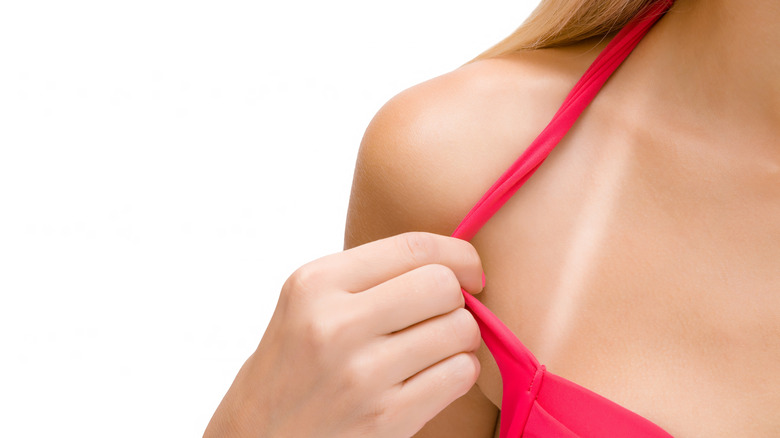 Shutterstock
Laying out in the sun and catching a good tan is something that many people look forward to. Whether it's by the pool in the summertime or on the beach during a vacation, getting that bronzed glow is something a lot of people aspire to get, although it should be noted that tanning increases your risk of skin cancer (via the Skin Cancer Foundation). While far less serious than a heightened risk of skin cancer, annoying and pesky tan lines are another big drawback of tanning. 
As most of us don't tan completely nude, there's nothing we can do to totally avoid some tan lines. Whether it's on your legs from board shorts or on your shoulders from bikini tops, having that difference between untanned and tanned skin can be annoying, especially when you wear something that shows those tan lines off. 
Luckily, there are sure-fire ways to get rid of tan lines, as long as you do it right! 
Getting rid of tan lines made easy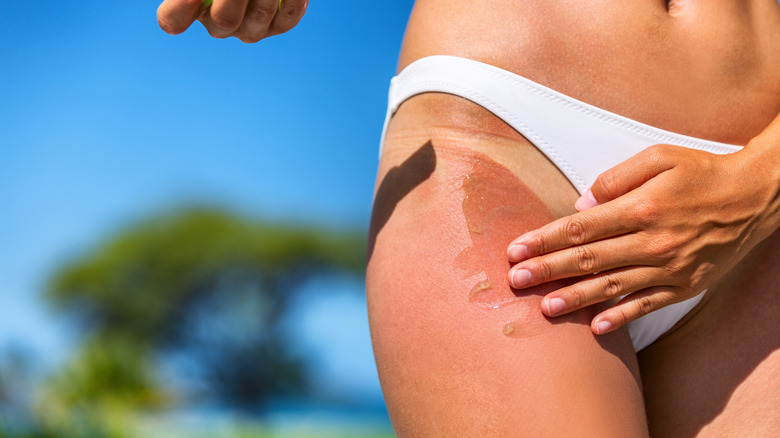 Shutterstock
There are a few different methods you can try to get rid of those tan lines in no time. Using baking soda can help to dull those harsh tan lines that you absolutely hate (via Well + Good). Combine baking soda with a cup of water and stir until it creates a paste. Then, rub that paste over your tan lines and leave on for about 15 minutes. When you're finished, rinse off! If you do this several times a week, it should dull the tan lines and even out your color rather quickly. 
Exfoliating skin is another proven way to get rid of dark spots and lighten up skin. This is true for tans as well as just everyday skin. The more you exfoliate a tan, the quicker it will lighten up and even out. And, if you choose an exfoliant with Vitamin E, it'll help speed the process up, too (via Byrdie). 
Lemon juice's acidic nature and honey's moisturizing perks create a great way to lighten and brighten your skin. The combination helps to "lighten skin," so your tan won't be as dark and noticeable compared to those tan lines (via Pure Wow). Combine the two and apply to your tanned skin area, around the tan lines, and leave on for about 20 minutes, then rinse. After a few uses, your tan should be faded and less noticeable.