Who Is RuPaul's Drag Race's Pandora Boxx?
Chelsea Guglielmino/Getty Images
"RuPaul's Drag Race" has brought the art of drag into homes around the world, and it's creating international platforms for drag queens who may otherwise be stuck performing in their hometowns. It's giving queer artists voices, which is incredible and incredibly important. Among these queens is Pandora Boxx, who first appeared on Season 2 of the flagship series before later appearing on the inaugural season of "Drag Race All Stars," a series that highlights impressive queens and fan favorites alike. 
According to her website, Pandora Boxx was a fan favorite from Season 2 of "Drag Race," and Entertainment Weekly even named her their pick for America's Next Drag Superstar — the title given to the winner of each season of "Drag Race" — at the time. Becoming a fan favorite meant that Pandora Boxx was voted to be the season's Miss Congeniality, and many, including Entertainment Weekly, thought her lip sync elimination in Season 2 was controversial and a blindside. The series' producers knew she had undeniable talent, though, so this queen returned for the first season of "All Stars," though her stint on this season didn't last long.
This fantasy series helped Pandora Boxx believe in herself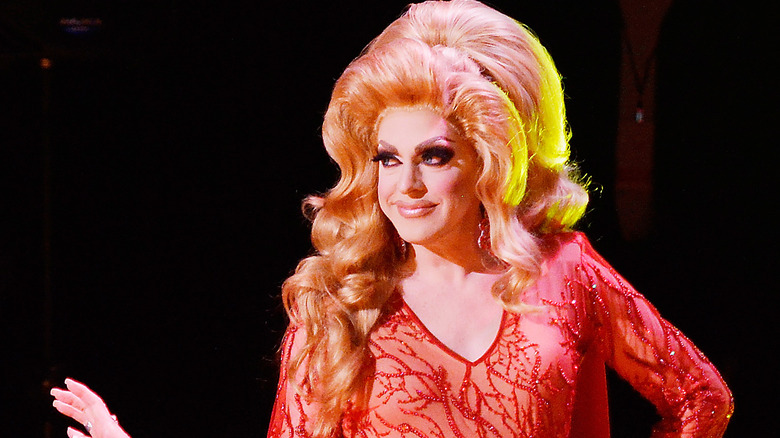 Chelsea Guglielmino/Getty Images
Born Michael Steck in Jamestown, New York, per Yahoo, 49-year-old Pandora Boxx named herself after Greek mythology. In an interview with Hotspot! Magazine, she explained that Pandora "was the first woman ever created." She then said, "She opened the forbidden box and let all of the evil out upon the world leaving only man's hope inside. I thought with a name like that you'd never know what to expect," before adding that Pandora has "similar qualities" to the name Madonna. For Pandora, it was a no-brainer!
In this same interview, Pandora revealed that she's actually much more reserved when she's not in drag. Pandora takes all of her social energy, which makes a lot of sense give how much drag queens perform. When asked to describe Pandora in five words, she said, "Wacky. Hilarious. Outrageous. Raunchy. Entertaining." With words like these, it makes sense that her time working would deplete her energy.
Pandora's style contains multitudes, from vintage glamor to sci-fi references. She's always loved "Star Trek" and has even been featured on their website. In an essay titled "My Queer Trek," Pandora discusses her journey, beginning with her small-town upbringing, and how "Star Trek" has helped her and how queer representation matters in media. She wrote, "In my world of despair, 'Star Trek' gave me the hope of a bigger world than the one I felt so trapped by." Now, Pandora has created her own world through her art that she can be incredibly proud of.
Fans can see Pandora Boxx return to "Drag Race" once more when Season 6 of "All Stars" premieres on Paramount+ on June 24.