Here's What Maren Morris' Tattoos Really Mean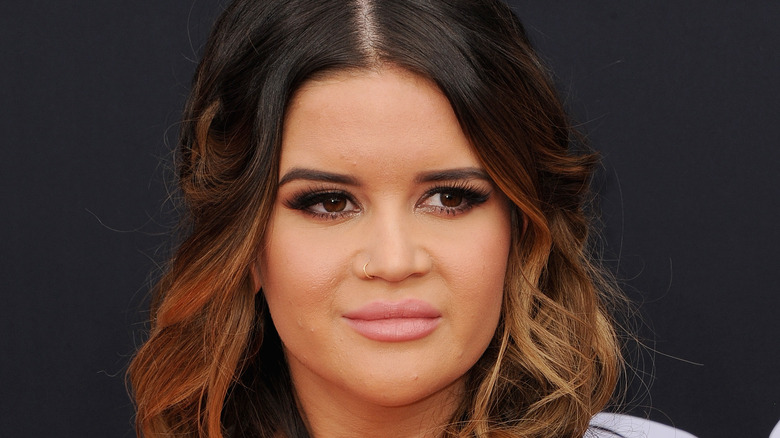 Shutterstock
Since the release of her debut album "Hero" in 2016, Arlington, TX native Maren Morris has been making quite the splash on the country music scene. Her modern sound with influences from rock, R&B, hip hop, and pop makes her stand out and captivates fans, earning her a spot among today's most popular artists of the genre. 
In 2019, Morris formed supergroup The Highwomen with Brandi Carlile, Natalie Hemby, and Amanda Shires, gaining attention with their rendition of classic country hit Highwayman, (via All Music). With a killer stage presence and talent in tow, it's no surprise that Morris has quickly made her way to country stardom. After taking in her melodic voice and lyrics, you might notice something else about Morris.
Like many celebrities, Morris has gone under the needle a few times and her skin boasts some truly unique ink. Morris reportedly has four eye-catching tattoos, each with its own meaning and style.
Maren's tattoos have personal meanings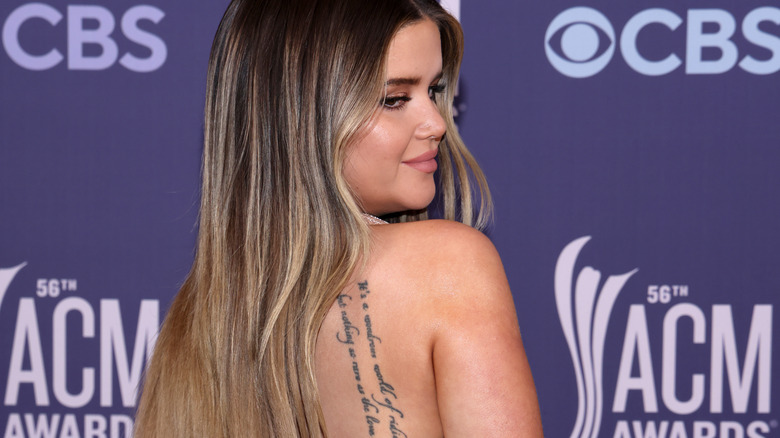 John Shearer/acma2021/Getty Images
Like many people do, Maren Morris received her first tattoo when she turned 18 years old. 
The tattoo, a hummingbird on her wrist, features a vibrant watercolor style. Morris got the tattoo to represent her love of hummingbirds as well as to give a subtle nod to her first guitar. Of the tattoo, Morris told Country Note, per Steal Her Style, "This is my first tattoo. It's a hummingbird. My first ever guitar was a Gibson Hummingbird. And I just love them. That was when I was 18."
Scrawled vertically on her back, Morris has a line from the song "Christina" by folk singer Patty Griffin. The line reads, "It's a wondrous world of ridiculous things but nothing so rare as the love that it brings," though the actual lyrics replace the word "but" with "with." Considering that Griffin is one of the songstress' musical idols, it makes sense that she would want to pay a permanent tribute to the musician.
Maren isn't afraid to celebrate herself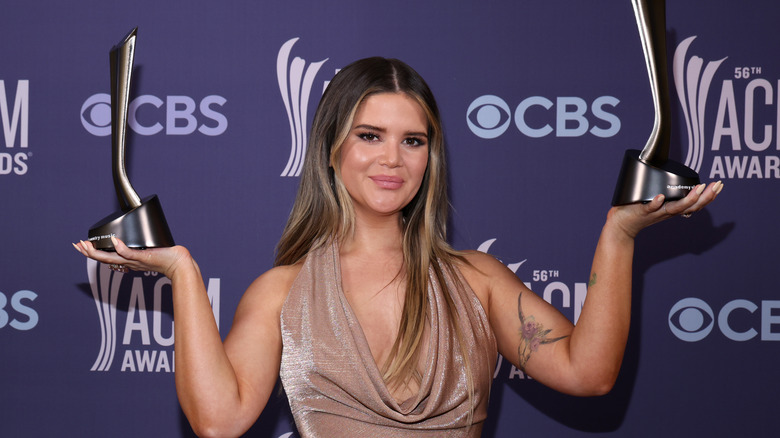 John Shearer/acma2021/Getty Images
Maren Morris has also celebrated her own successes with a bit of ink. On the back of her left arm, Morris has the Roman numerals for 42 to signify the number of weeks her hit single "I Could Use A Love Song" was on the charts before hitting number one on January 20, 2018.
In an interview, Morris said of the ink, "It's been an amazing month. I can't believe — It went No. 1, and then we're at the Grammys this weekend ... Watching it inch up the chart all week, and then they finally said it went No. 1 and I could just exhale, finally." She continued, "It was really exciting. I actually got a tattoo today to signify the number of weeks it was on the chart. So it's 42. It's the first number one so I want to celebrate it," (via Body Art Guru).
Morris' latest tattoo is perhaps her most eye-catching. On her left bicep is a gorgeous tribute to her home state of Texas in the form of a longhorn bull skull adorned with florals. In a since-deleted Instagram post, via One Country, Morris describes the tattoo as a "little bit Texan sass, little bit feminine."