Matthew Perry Reveals The Friends Episode He Refused To Film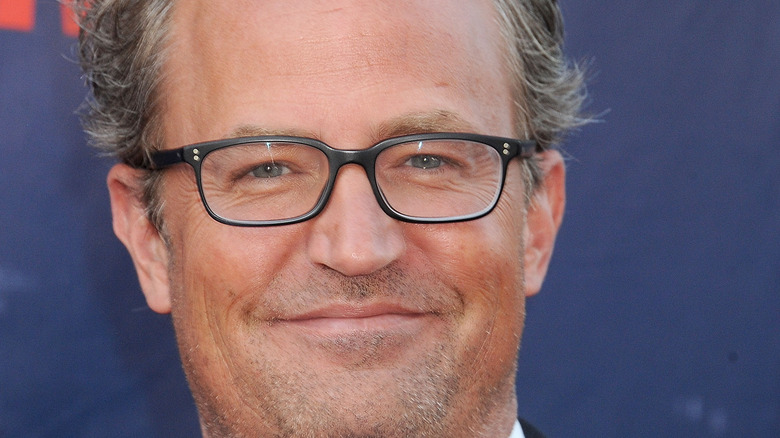 Gregg Deguire/Getty Images
"Friends" is getting new television life in the summer of 2021 with reunion special where all six lead stars got together once again on set (via US Weekly). The show was already a favorite for binge watching, showing 20-something New Yorkers who lean on each other through the post-college years when people finally have to start adulting. "Friends" aired countless episodes with adult themes or even questionable scenes, but there was one episode that was scripted and never made it to air because star Matthew Perry refused to film it.
There were definitely things that were not off-limits to the "Friends" producers and stars. For example, while fat shaming is considered shameful today, entire episodes of Courteney Cox's Monica in a fat suit depicting her overweight teenage years and her inability to find a boyfriend because of her weight aired and got belly laughs. But what did Perry find so offensive that he just wouldn't do it?
Matthew Perry had objections to Chandler Bing eating scenario
Jason Kempin/Getty Images
Chandler Bing's sexuality was frequently questioned on "Friends" with one episode featuring a co-worker who wanted to set him up with a man. Even Chandler's dad's sexuality was vague. Actress Kathleen Turner played the character known as Charles Bing, but in stunning drag, leaving the audience to wonder if Chandler's father was a transgender woman or not (via NewNowNext).
In fact, Turner revealed in a 2019 interview with "Watch What Happens Live" that she would never even take the role in today's world where there are other people who can more authentically play it (via Huffington Post).
Apparently, Matthew Perry didn't object to any of those stories. However, when Perry appeared on "Watch What Happens Live", he did tell host Andy Cohen what story he did refuse to play. When Cohen asked the actor if he felt "Friends" ever jumped the shark, Perry didn't say yes or no, but he did relay the story of when he wouldn't film a scenario where Chandler frequents a male strip club, but only because he really, really liked the sandwiches. Thanks to Perry, that's an episode of "Friends" we will never see.