Here's How Much Elizabeth Taylor Was Worth When She Died
Hulton Archive/Getty Images
Glamour, personality, elegance, beauty and a talent that gave her a lifetime of wealth are what define Elizabeth Taylor, the Oscar-winning Hollywood legend who passed away in 2011. 
At the time of her death, Taylor had been a bona fide movie star for nearly 70 years. Her filmography boasts a whopping 79 acting credits and lists such classics as "Cat On A Hot Tin Roof," "Cleopatra," and "Who's Afraid of Virginia Woolf?" (via IMDB). With seven decades worth of work, it's no wonder Taylor died an immensely wealthy woman.
The star often thought of as an American actress, but Elizabeth Rosemond Taylor was actually born on February 27, 1932 in London, England. Her parents were American and were both working overseas when she was born. After World War II broke out and London was headed towards becoming a war zone, her family moved back to the States and settled in Los Angeles where Taylor became a child star (via Biography).
Elizabeth's net worth came from her stream of films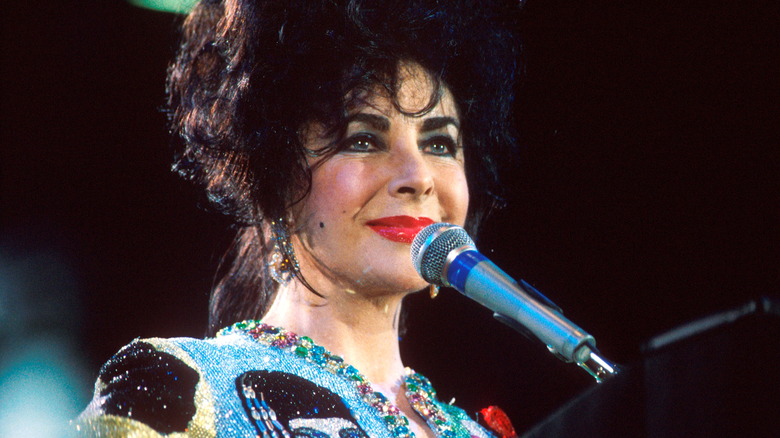 Michael Putland/Getty Images
Elizabeth Taylor first appeared on the silver screen in 1942's "There's One Born Every Minute" but her breakout role didn't come until two years later when she was cast as Velvet Brown in the horse-racing classic "National Velvet" (via IMDb). That film earned more than $4 million for Universal Studios, and Taylor became a hot Hollywood commodity by the time she was a mere 12 years old, according to Biography.
While child actresses like Shirley Temple could not make the transition from child star to adult star, Taylor absolutely could and played her first ingenue role in "Father Of The Bride" opposite Spencer Tracy in 1950. The roles kept piling in after that, including a 1951 sequel, "Father's Little Dividend." 
Even a marriage to Nicky Hilton at the tender age of 17 (the first of Taylor's seven unions) did not stop Taylor's career. The screen credits kept piling up as the roles got juicier and her value increased. Taylor ultimately won her first Academy Award for "Butterfield 8" in 1960.
Elizabeth's love for Hollywood led to a lavish lifestyle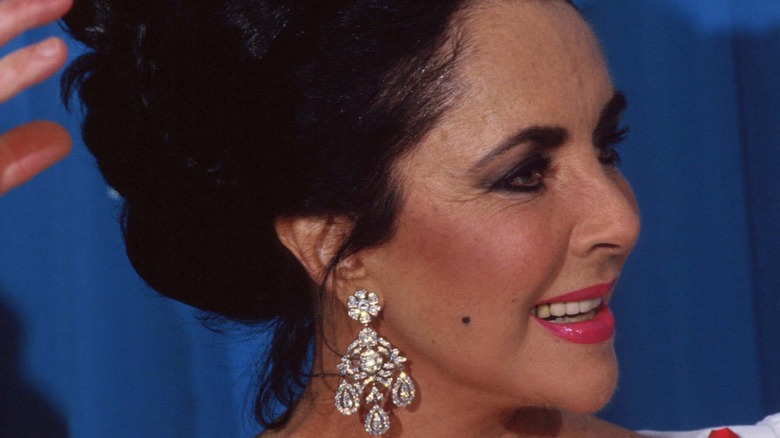 John T. Barr/Getty Images
Although Elizabeth Taylor stopped making movies at a frenetic pace in the 1970s, she still had money to spare. Her fifth husband, British actor Sir Richard Burton, was known for gifting her with elaborate jewels. In fact, Taylor was famous for her jewelry collection and even wrote a book on the subject called "Elizabeth Taylor: My Love Affair With Jewelry." Months after her 2011 death, much of her collection was auctioned at famed auction house Christie's, according to Vanity Fair.
Taylor was so famous for her jewelry collection that in 1991 she lent her name to a perfume scent called Elizabeth Taylor's White Diamonds. When she died, White Diamonds was the world's top selling perfume and it was Taylor's star that sold it as she appeared in its commercials donned in what else but exquisite white diamonds. That wasn't the only perfume line Taylor was associated with. Her love for perfume also led her to help create Black Pearl and Passion, according to Fashionista.
The icon also continued to act sporadically, taking on a well-publicized guest role as Helena Cassadine on "General Hospital" in 1981 and appearing in the mini-series "North and South" in 1985 (via IMDb). She spent the later part of her life as an AIDS research activist even as she battled her own health problems. When she died, the movie star was worth a whopping $600 million, according to Celebrity Net Worth.