Courteney Cox Just Revealed Her Surprising Celebrity Crush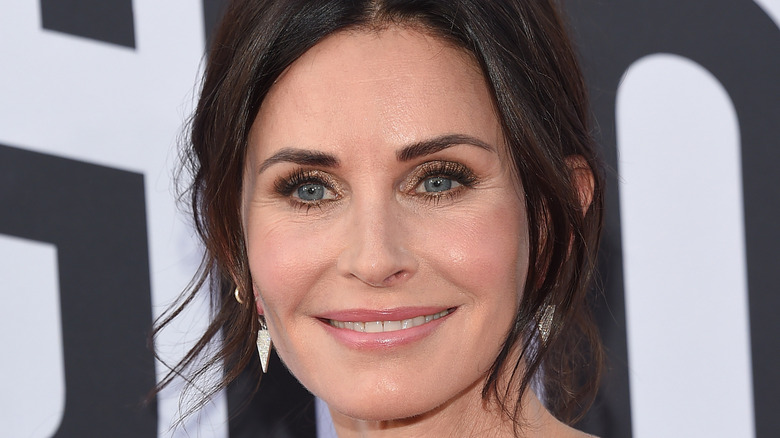 Shutterstock
Courteney Cox is no stranger to high-profile romances. The former "Friends" star has been linked to plenty of famous men in her life, including a long-term relationship with "Batman" actor Michael Keaton in the early days of her career (via Us Weekly). Cox and Keaton dated from 1989 until 1995 when she began to hit big in her career. Cox has also been linked to actor Kevin Costner, and also had a brief fling with Counting Crows singer Adam Duritz, who also dated Cox's best friend and co-star Jennifer Aniston.
Cox eventually met actor David Arquette in 1996 when they co-starred together in the hit horror film "Scream." The pair sparked a romance and later married in 1999. The couple were married for ten years and share one daughter together, Coco. They eventually called it quits in 2013. However, the actress says that her ex-husband is still her best friend. "He's my best friend in the world. I love him," Cox said of Arquette during a 2013 interview with Ellen DeGeneres. 
Following her divorce, Cox struck up a romance with musician Johnny McDaid. The pair dated for six months before getting engaged in June 2014. They endured a brief split before getting back together in 2016. While the actress has dated many different types of men, she recently admitted that she had a celebrity crush that may surprise many of her fans.
Courteney Cox admits she crushed on Jim Carrey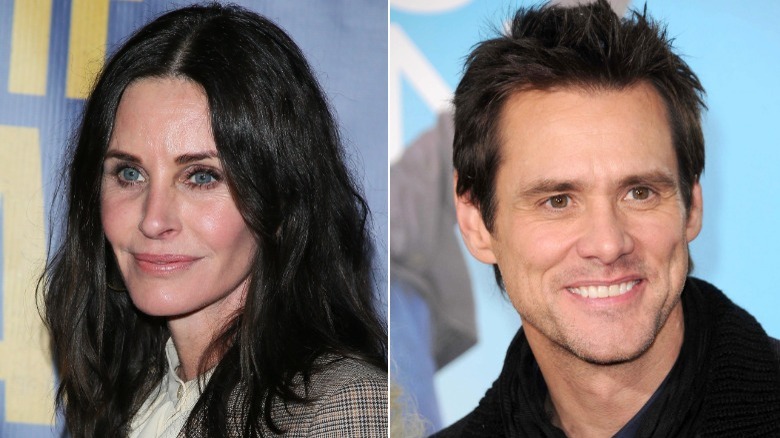 Jean Baptiste Lacroix/Getty Images, Shutterstock
According to People, Courteney Cox sat down for an interview with Howard Stern this week with her former "Friends" co-stars Jennifer Aniston and Lisa Kudrow. During the interview, Cox opened up about working on one of her early movies, 1994's "Ace Ventura: Pet Detective". The actress also revealed that she harbored a bit of a crush on her co-star, Jim Carrey.
"He was so funny; it was just about cracking up all the time," Cox said of the comedian. "I remember when we first rehearsed, he was just playing it straighter. And then he turned it on when we started filming and I thought, 'Oh my God, he's the funniest person,'" the actress added. In addition, Cox admitted that the experience of working on set with Carrey brought the two closer together and that they "became really good friends" throughout the process thanks to the fact that Carrey "cracked [her] up the entire time."
Cox also revealed that she had a "crush" on Carrey while filming the cult classic movie. "But nothing romantic?" Stern asked. "I don't ... I'm going to go to the bathroom," Cox joked, changing the subject. "The reason I ask that is there are these two talented people. I can't see how that wouldn't happen," Stern explained. In addition, Cox admitted that Carrey also has a "serious" and "intense" side. However, she never revealed if the pair shared a romantic relationship. Although, many fans could likely imagine Cox and Carrey making an interesting, yet adorable celebrity couple.