Inside Courteney Cox's Relationship With Musician Johnny McDaid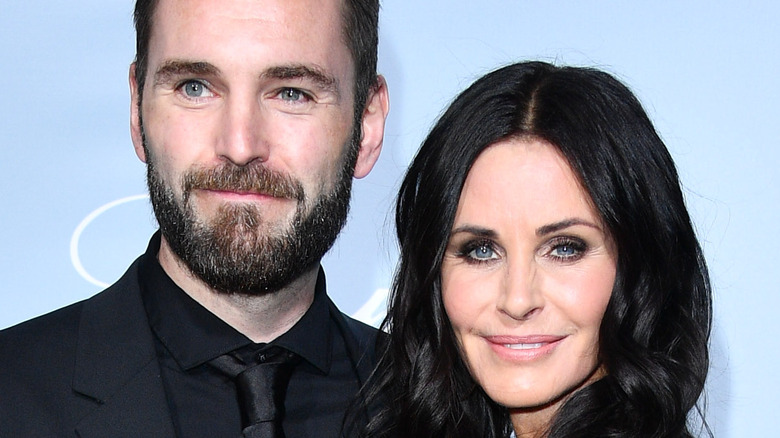 George Pimentel/Getty Images
While Monica Geller settled down with a man who worked in statistical analysis and data reconfiguration, Courteney Cox ended up with a guy who has a far more interesting job (via The Atlantic). Musician Johnny McDaid, a member of the band Snow Patrol, has been with the "Friends" star for nearly eight years, according to Cox's Instagram. The couple was reportedly introduced by none other than Ed Sheeran, who has worked with McDaid on a variety of hit songs, including "Galway Girl" and "Shape of You" (per Secondhand Songs).
A few months after their initial date in 2013, Cox and McDaid made their first public appearance together in 2014. Things seemed to be going extremely well for the two stars, who got engaged later that same year. "I'm engaged to him!" Cox announced on Twitter. Ed Sheeran even replied, tweeting, "yayayayay." Just a year later, however, the couple called it quits. Cosmopolitan reports that it was likely due to distance. Cox wanted to stay in Los Angeles, while McDaid was keen to continue life in the U.K.
How Courteney Cox and Johnny McDaid rebuilt their relationship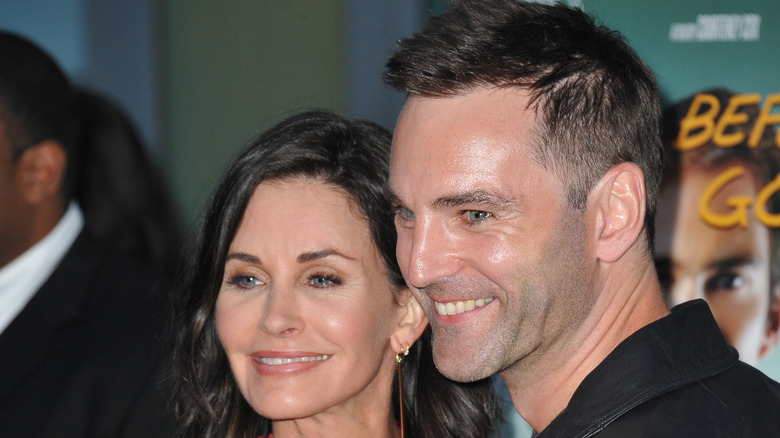 Shutterstock
While fans were upset to hear that Courteney Cox and Johnny McDaid were no longer together in 2015, the distance may have helped them sort out their issues. As noted by Cosmopolitan, the couple rekindled their romance and got back together in 2016, happily traveling the distance to see each other as often as they could. This time, they decided to remain un-engaged.
"He's not my fiancé," Cox explained to Ellen DeGeneres on The Ellen Show, via YouTube. "We were engaged to be married, but now we're just together." DeGeneres probed further, and Cox added, "We broke off our engagement, and he moved to England. Then we got back together, and it's actually better than it was before."
From then on, Cox and McDaid have managed to keep their relationship strong, despite the distance. Though they may never get married, the two seem very content with one another. The distance is certainly hard, especially since the couple was separated for over 200 days during quarantine, via ET Online. Fortunately, People reported that Cox was finally able to reunite with McDaid in December of last year. Since then, Cox has posted several pictures of herself with McDaid, some old, and some new. "I'm missing my favorite Irishman and family. I love you," she wrote on Instagram in March. It seems as though Cox and McDaid are stronger than ever.