How Courteney Cox Really Feels About Being The Only Friend Not Nominated For An Emmy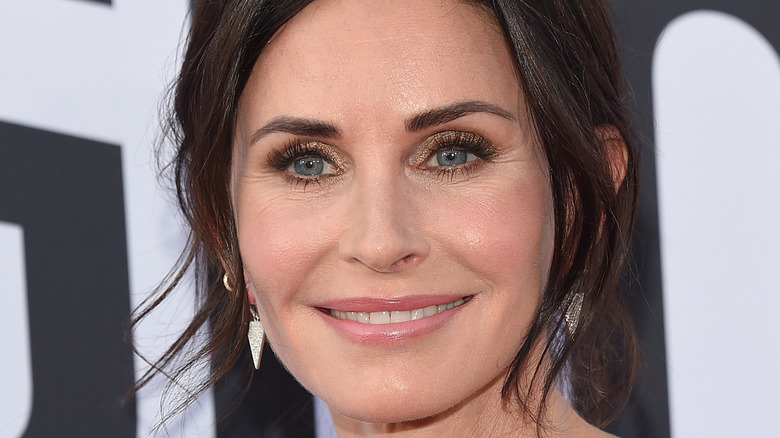 Shutterstock
"Friends" was more than just super entertaining and laugh out loud hysterical — the show, which aired for ten seasons, also earned many award nominations (via IMDb). If you can believe it, "Friends" was actually nominated for 62 Emmys, and scored six wins over the course of its TV tenure. Matt LeBlanc, who played the adorably clueless and lovable Joey Tribbiani, was nominated for an Emmy for Outstanding Lead Actor in 2004, while Jennifer Aniston was nominated the same year for Outstanding Lead Actress for her role as the high-strung and hilarious Rachel Green.
In fact, LeBlanc and Aniston were both nominated several times, and every star of the iconic sitcom also received this honor — except one. Although it's baffling as to why, Courteney Cox was never nominated for an Emmy like her five castmates (via Entertainment Weekly).
So, how did Cox feel about her being slighted? It turns out the star took it really hard. Sniff. Talking to Howard Stern this week, Monica Geller's alter ego admitted, "Sure. Yeah, it always hurt my feelings."
Luckily, there was one saving grace.
Courteney Cox enjoyed other successes
Shutterstock
As Cox went on to admit to Stern while appearing on his Sirius XM show alongside Aniston and Lisa Kudrow, "When every single cast member was nominated but me, it definitely hurt my feelings. I was happy for everybody, and then when it was finally like, 'Oh, I'm the only one?' It hurt" (via Entertainment Weekly).
But as the actress went on to tell the raunchy radio host, when "Friends" ended and she went on to star in "Cougar Town," which aired from 2009 to 2015, her luck changed (via IMDb). "And then the only thing that made me feel good — because they've all won and they've gotten so many accolades — I got nominated for 'Cougar Town' the first year [out] — a Golden Globe. And I want to say, 'Oh, who cares?' It meant everything to me."
It's worth noting that the first year the show was on, just Cox was nominated for a People's Choice Award, but as she told Stern, "Oh, I feel horrible. Oh, these actors! Ah! And I got nominated? I'm so embarrassed." But she added, "Cut to — there goes that. I shouldn't have felt bad."