The Drugstore Lashes That Celebrity Makeup Artists Swear By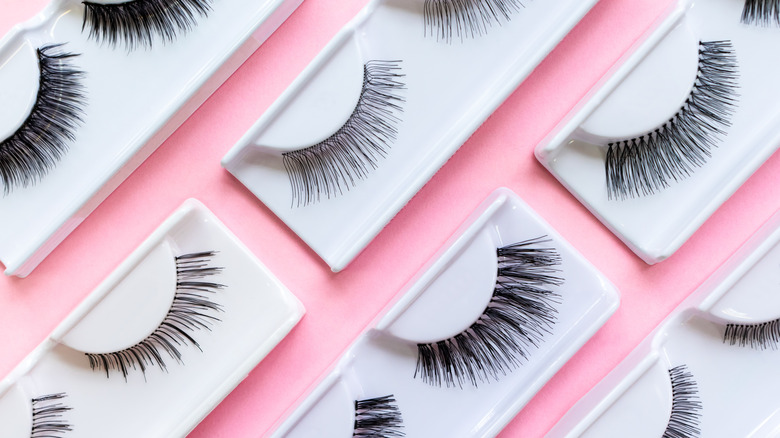 Shutterstock
Eyelash extensions are all the rage these days (via Cosmopolitan). However, if you're not ready to commit the time and money to get a set and maintain the upkeep they require, then you might consider getting a similar look by using false eyelashes. As with many aspects of makeup and the beauty industry, there are an overwhelming number of choices when it comes to finding the perfect falsies. According to Allure, false eyelashes come in singles, clusters, and strips. When you think of them, you probably picture the strip that glues along your lash line — it turns out, though, that there are a lot of different aspects to take into consideration when picking out your falsies, including eye shape and desired look. 
"Strip lashes work well as long as you find a style that suits your eye shape," makeup artist and Tweezerman brow & lash ambassador Gita Bass told Allure. "Rounder eyes look great with a winged or demi lash on the outer corners, while deep-set eyes need a slightly longer lash to be visible. Hooded eyes benefit from a lash that is longer in the middle." 
Strip lashes come in various shapes and levels of drama, and are made from synthetic material or mink and silk (depending on the brand). If you're considering trying out the look, Byrdie spoke with celebrity makeup artists who shared their favorite affordable drugstore brand of strip eyelashes, so you don't have to worry about breaking the bank.
Here's why you should try Ardell false eyelashes
According to Byrdie, celebrity makeup artists swear by Ardell strip eyelashes. Almost all of the half-dozen makeup professionals interviewed by Byrdie mentioned this drugstore brand. The publication recommended Ardell's natural line, which it noted is good for both false lash newbies and those who are more experienced with falsies. A five-pack of the strip lashes costs around $12 or less at drugstores and discount retailers.  
Good Housekeeping UK also gave the drugstore false eyelashes high marks. One positive aspect about Ardell lashes is that they have a malleable lash band, making them easy to apply to your specific eye shape. Once you've applied them, the review revealed that they stay comfortable all day. Another plus is that the Ardell strip lashes are easy to remove at the end of the day, and they keep their shape for multiple applications, making them an all-around bargain. If you're interested in trying out false eyelashes, it looks like you can't go wrong starting with an Ardell set.