The Best False Eyelashes For Your Eye Shape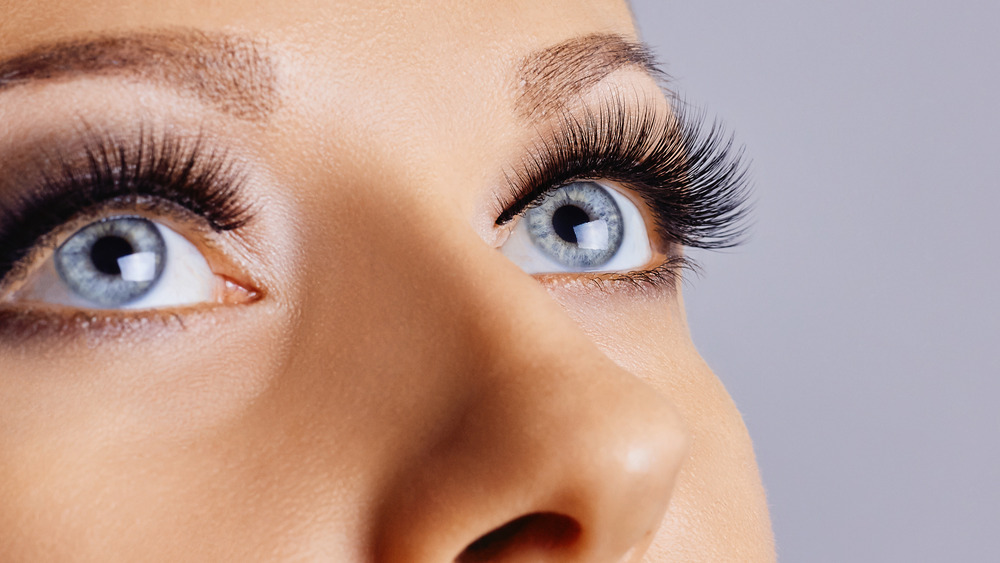 Shutterstock
Who doesn't love a pair of false eyelashes to give immediate, sultry cat-eyes? A one-stop shop for a dose of mystery, falsies are the easiest way to open up the eye and complete any makeup look. With countless types of falsies to choose from, from dramatic to airy, each eye shape calls for different kinds of false lashes to truly shine. If you're wondering if your go-to faux lashes are really right for you, these are the best false eyelashes for your eye shape.
Almond is the most common eye shape, defined by pointed ends with a wide center (via Elle). With almond eyes, part of the iris is hidden by your upper and lower lids. Glamazons like Beyoncé and Olivia Wilde both have this eye shape, which looks great with any type of lashes. As this is the most versatile of the shapes, Glamour recommends winged, fluttery lashes to complement your natural cat-eye, or a full, evenly distributed lash for all the drama. 
Known for showing most of the iris, round eyes are seen on celebs like Katy Perry and Zooey Deschanel. Usually large, this eye shape has tons of dimension and gives total Bambi vibes, with rounded corners that go neither up nor down. To enhance your doe-eyed shape, go with lightweight, curled lashes that won't weigh your lids down. The wispier the better, especially in the outer corners to create more of a cat-eye (via Huda Beauty).
The best false lashes make your eyes pop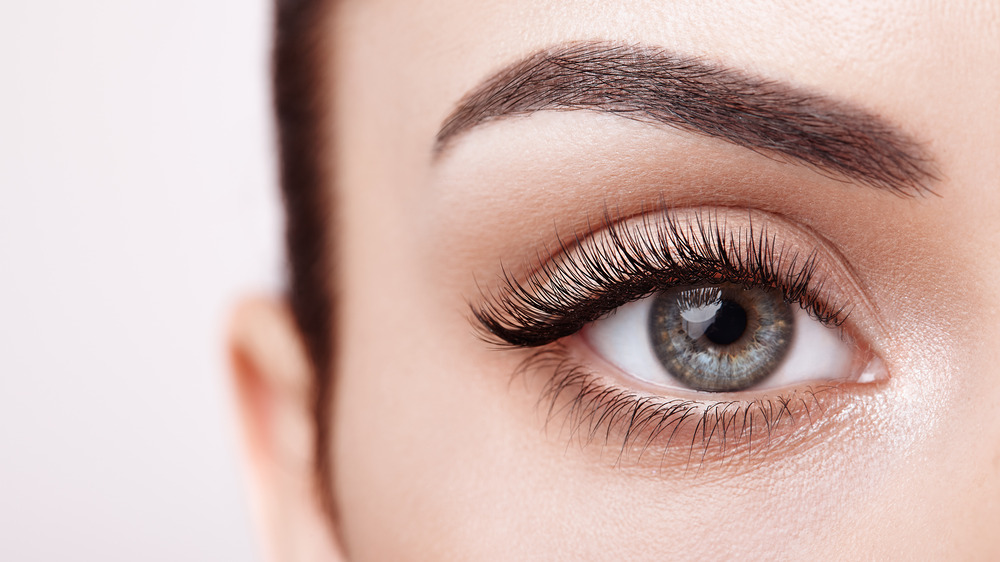 Shutterstock
As explained by Elle, naturally mysterious hooded eyes are defined by a near-invisible upper lid when the eye is open (think Jennifer Lawrence). For this eye shape, the aim is to make eyes look bigger and more open in the center, so a combination of different lengths will work great here. Using individual false eyelashes, place longer pieces at the center of the eye, with shorter lashes at the end to create more of an almond shape (via Mademoiselle Lash). According to Glamour, strip lashes can work also as long as they don't pull the top lid down.
Monolid eyes are another fantastic, open canvas, often seen on people of East Asian descent. This eye shape has no visible crease on the eyelid. You can get away with fluttery, multi-layered false eyelashes to add dimension. Opt for a pair of falsies that have crisscross layers for a bit of drama, and curl the lashes afterward to draw attention in (via Huda Beauty) .
For upturned cat-eyes, seen on none other than Taylor Swift, go for a flared half-lash in the outer corners to emphasize the shape (via Elle). Similarly, create this same look on downturned eyes with wispy, low-volume lashes that are longest in the center and taper out to create a lift (via Mademoiselle Lash). Moreover, those with deep-set eyes like Natalie Portman's should go for long, curled lashes that have more length at the center to accentuate their size.