Where Is Alyson Stoner Today?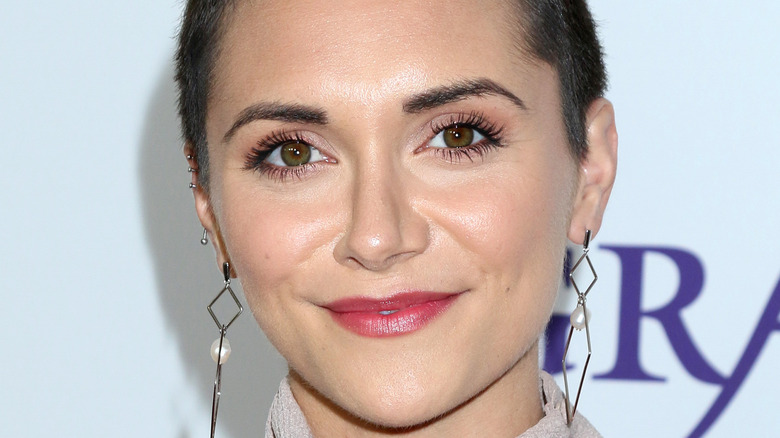 Shutterstock
Dancer Alyson Stoner broke the internet in 2019 when she reunited with R&B legend Missy Elliott on the VMA stage to perform her iconic dance from the "Work It" music video (via Newsweek). 
Though this viral performance is the most recent thing that Stoner made headlines for, the Millennial has been a star for almost two decades (via Showbiz CheatSheet). In 2002, Stoner was the breakout star of Elliott's "Work It" music video and went on to perform in many of Elliott's other videos. Around that same time, Stoner also worked on Disney Channel for many years on the hit programs "The Suite Life of Zack and Cody," "Phineas and Ferb," and the two "Camp Rock" films (via Elle).
The actress also starred in the film franchise "Cheaper by the Dozen," "Step Up," and the series "The Legend of Korra" (via IMDb). Though Stoner was quite famous growing up, she's since stepped away from the spotlight and instead focuses on advocating for change in the industry (via The Things).
Alyson is fighting for change in a dangerous industry
In the spring of 2021, Alyson Stoner shared a video essay to her YouTube channel titled "The Toddler-to-Trainwreck Industrial Complex."
In the 15-minute video, which has already racked up over 1.3 million views as of writing, Stoner discusses her traumatic experience as a child star. Throughout the video she revealed many of the difficult experiences she had growing up in the spotlight, including sexual harassment, developing an eating disorder, and battling child labor law violations. While revealing specific examples of how childhood stardom negatively impacted her life, Stoner also offered potential solutions to the problem.
She called for third-party mental health professionals to be made available on sets. Stoner explained, "They can help monitor working conditions and be available to assist entertainers in regulating, shifting between identities and discharging residual inner turbulence after emotional performances." 
Aside from sharing her story and helping to spark a conversation about this tragic reality, Stoner founded the digital wellness platform Movement Genius to help young people improve their mental health (via Bustle). She also founded the non-athletic movement program during the pandemic and is rolling it out to the public in July 2021.
Alyson has a blossoming music career and podcast
Though Alyson Stoner had a difficult time growing up as an actress and dancer in Hollywood, the star has since shifted her focus to making music. 
Since 2013, Stoner has released a steady stream of singles, including "Fool," "Who Do You Love," and most recently "Stripped Bare" (via Spotify). Stoner also shares official music videos for many of her tracks on her YouTube channel which has over 664,000 subscribers. Her music video for "Stripped Bare" racked up over 1 million views.
In addition to creating music, the star launched the podcast "Simplexity with Alyson Stoner" in August 2019 (via Apple). On the podcast, Stone speaks with artists, scientists, entrepreneurs, and other extraordinary people about how to make life simpler and more enjoyable. Stoner wrapped Season 1 of the podcast in the summer of 2020 but has yet to reveal when she will begin releasing the episodes from Season 2. However, it's clear that Stoner's fans will be ready for Season 2 of "Simplexity" whenever it comes out and excited to support the advocate in all of her endeavors.