Every Makeup Product Cynthia Nixon Wore As Miranda On Sex And The City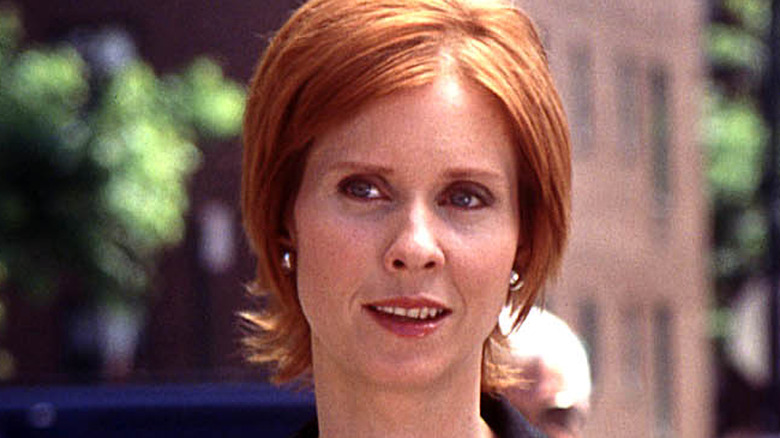 Getty Images/Getty Images
When talking Sex and the City, Miranda Hobbs is often cited as a fan favorite. As Screen Rant points out, in the glitzy, glamorous, upper-crust Manhattan world the show creates, she's the most down-to-earth character, making her incredibly relatable. She struggles to balance her successful career with other priorities in a world that doesn't always like to see women in power, she communicates directly and honestly with friends and boyfriends with a very real vulnerability, and remember that time she baked and then ate an entire chocolate cake? Been there. 
And along with her sardonic wit, impressive intelligence, and undeniable feminine power, there is another reason fans want to emulate Miranda: her always-on-point style. While Charlotte was always frilly and hyper-feminine, Carrie tended to be on the cutting edge of trends (whether great or horrible), and Samantha exuded a sultry look, Miranda always looked put together and perfectly appropriate for whatever event she was attending, whether a day at the gym or a fancy client dinner. The makeup she wore when going for a professional look, a date night look, or a casual look always suited her stunning red hair and fair complexion perfectly. Now, you can recreate the look with the exact same products! 
All the makeup Miranda wore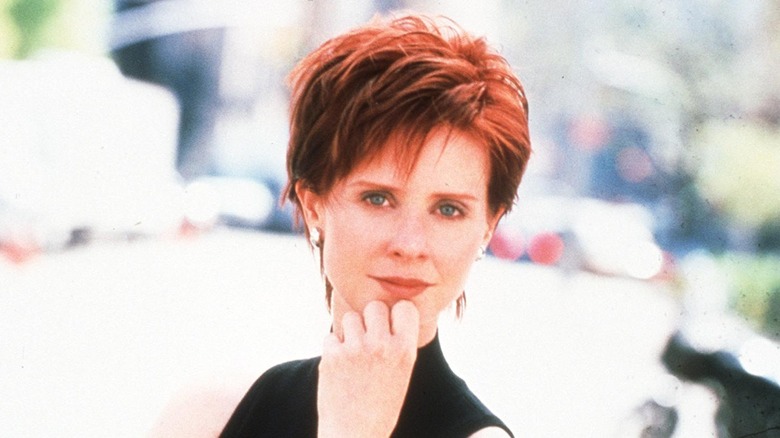 Getty Images/Getty Images
Makeup artist Kerrie Plant was responsible for Miranda's looks during the run of Sex and the City, and she had a bag full of makeup to flatter Cynthia Nixon's fair skin and flaming locks (via Clares Auntie). First let's discuss that complexion. For foundation, Plant used Clinique Stay-True Makeup in the lightest available shade, 01 Stay Ivory. For concealer, she went with Laura Mercier Secret Concealer, and for powder she chose MAC Blot Powder in Light.  
To rosy up Miranda's cheeks, Plant used Clinique Honey Blush in the shade 02. For the character's understated but always-lovely eye look, the makeup artist relied on Estee Lauder Pure Color Eyeshadow in the shade Rose Confetti, Benefit's Bad Gal eyeliner, and Shu Uemura H9 Formula Eyebrow Pencil in Seal Brown. 
And perhaps the most 90's/early 2000's of all the makeup choices was the lip color, which was Victoria's Secret Beauty Rush Lipgloss in the shade Honey Do. 
And there you have it, folks! A bonafide Miranda-approved look!