Mike Pence Has A Harsh New Take On The 2020 Election Result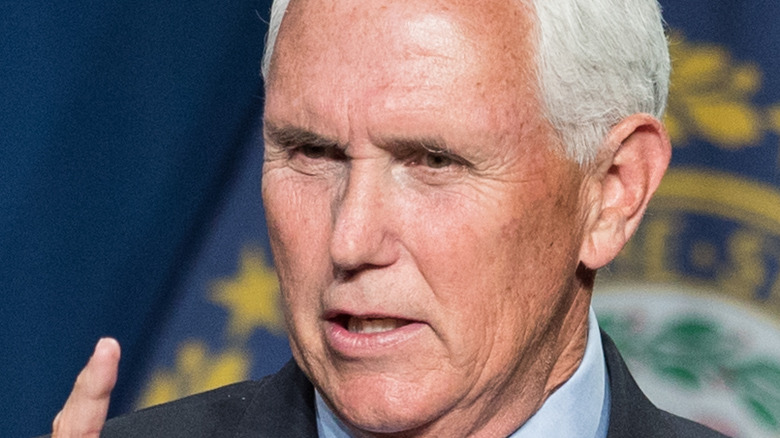 Scott Eisen/Getty Images
Mike Pence maintains that during his one term in office, he will "always be proud" of what he and former President Donald Trump accomplished. He also called on the GOP to continue Trump's policies, especially since "under President Trump's leadership we were able to achieve things Republicans have been talking about since the days of Barry Goldwater" (via Yahoo!). 
But there is something else Pence now says he's proud of too: that is, fulfilling his duty under the Constitution on January 6 — the day a bloody insurrection broke out in the U.S. Capitol. During a speech at the Ronald Reagan Presidential Library in Simi Valley on Thursday night, Pence said, "I will always be proud that we did our part on that tragic day to reconvene the Congress and fulfilled our duty under the Constitution and the laws of the United States." He added, "The truth is, there is almost no idea more un-American than the notion that any one person could choose the American president" (via The New York Times). 
The former vice president's comments are seen by political commentators to be the strongest he has made yet in his attempts to distance himself from his former boss, especially since Trump continues to push the idea that voter fraud robbed him — and by extension, Pence — of a second term in office.
Mike Pence has always stood by the U.S. Constitution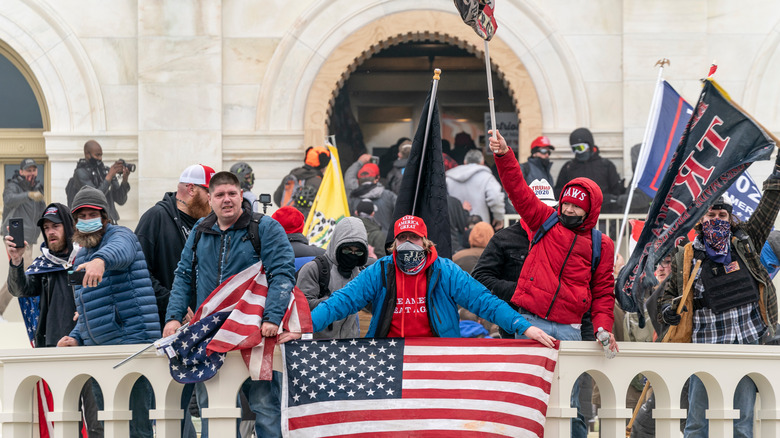 Shutterstock
Political watchers also believe that Trump's claim that the election was stolen represents a dangerous turn of events for the GOP, because it uses allegations of voter fraud as a way of justifying the passage of voter suppression laws (via The Guardian). For that, Mike Pence had a warning for his own party too. "If we lose faith in the Constitution, we won't just lose elections — we'll lose our country," he said, adding, "Now more than ever, America needs the Republican Party to be the party of the Constitution" (via Yahoo!).
Pence has never wavered in his position over the importance of the Constitution. A day before the January 6 riot that engulfed the U.S. Capitol, Pence told Trump that he didn't have the power to keep Congress from certifying Joe Biden's victory in the 2020 election, and that his role, or any other vice president's to help certify the results of the elections, is ceremonial. In spite of this, Trump went on Twitter to call Pence out, claiming that "The Vice President has the power to reject fraudulently chosen electors." GOP senators like South Carolina's Tim Scott and Oklahoma's James Inhofe also said at the time that to challenge a state's certification was a violation of their oaths of office (via The New York Times). Trump was impeached a second time as a result of the January 6 insurrection.