Did Prince Harry Want To Appear On James Corden's Talk Show?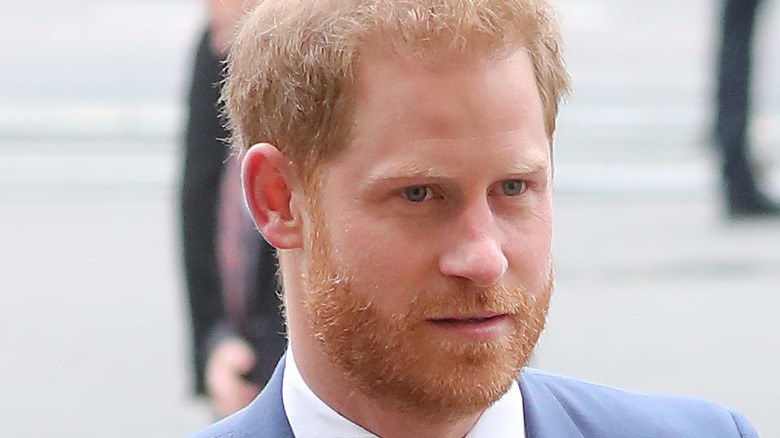 Chris Jackson/Getty Images
When Prince Harry stopped by "The Late Late Show with James Corden" back in February, it was widely considered a major get for the British comedian turned talk show host. As Vogue detailed at the time, Harry was in surprisingly good form, sharing tidbits about his new life in California and the sweet nicknames he and wife Meghan Markle have for each other, among other things. While cruising around Los Angeles in a classic double-decker bus, the long-time friends also discussed the Sussexes leaving the royal family and the accuracy of Netflix mega-hit "The Crown."
At Deadline's recent Contenders Television award-season event, Corden opened up about the reasons behind featuring Harry on the show, aside from the fact his whole team knew it would be a ratings hit. "I've known him a very long time, and so we wanted to show the person that I know, the person I've known for a long time," the TV host explained, noting they kept the fact Harry was appearing under wraps so the interview could "be judged on what it was and what it is without a sort of massive speculation leading up to it." But, who reached out to whom in the first place?
Prince Harry wanted to spread some joy during the pandemic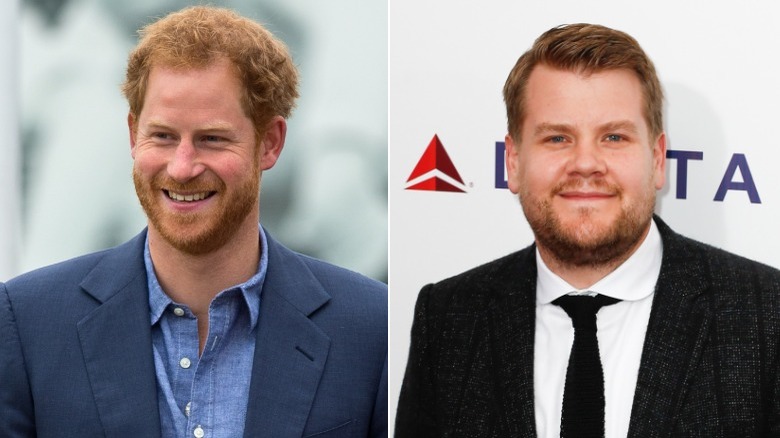 Ben A. Pruchnie/Getty Images, Shutterstock
During a virtual "For Your Consideration" panel, James Corden revealed how he managed "the get of the century," as fellow participant RuPaul Charles termed it, by nabbing Prince Harry's first post-royal family interview on his chat show. As The Hollywood Reporter notes, Corden and Harry go way back, with the former even performing at the latter's wedding to Meghan Markle. In the time since, the duke reportedly offered several times to "do something" on "The Late Late Show," but the timing didn't really line up until the Sussexes moved to California. Executive producer Ben Winston recalled how Harry reached out and said, "We're coming out of lockdown, I'm in L.A., do you think we should plan something fun to almost cheer everybody up in a way?" 
Naturally, the whole team realized how strong of a pull it would be for viewers. As Corden previously noted, they kept the interview a secret to prevent any negative buzz forming before it aired. Winston opined that the British media already took an opposition stance to Meghan and Harry's now-infamous Oprah Winfrey interview before it even aired (their chat was subsequently broadcast just weeks after Corden's). As a result, the "Late Late Show" team decided, "Let's just drop it and no one can write an opinion piece without everybody having the ability to see it and judge it with their own eyes." Unsurprisingly, the loose, goofy chat between old friends went down a treat.