Ree Drummond's Daughter On What Planning A Wedding With Her Mom Was Like - Exclusive
We've heard it said that having a famous mom can be tough, but that is most definitely not the case when your famous mom happens to be Ree Drummond. And it just so happens that we know this for a fact, because during an exclusive interview with The List, Ree's daughter, Alex Drummond, detailed for us all that went into the planning of her wedding — including setting up her wedding registry, which, let's face it, can be one of life's most difficult tasks. So of course, we had to ask Mrs. Scott (or "just Alex," as she said everyone still calls her) what it was like planning her wedding with her mom — you know, "The Pioneer Woman," who just happens to be one of America's favorite and most knowledgeable home cooking and entertainment experts, not to mention one of the original celebrity home and food bloggers (via Forbes). 
Let's face it, having a mom who thinks she knows it all can present a challenge or two for any bride. But in Ree's case? She pretty much does know it all. And apparently, that made all the difference. Why else would we have found ourselves getting all little misty-eyed as we listened to Alex talk about what it was like planning her May 1, 2021 wedding to Mauricio Scott, with the help of her mom, Ree? 
Planning her wedding with her mom was smooth sailing for Alex Drummond
When we asked Ree Drummond's daughter, Alex Drummond, what it was like planning her wedding with her knowledgeable-on-all-things-mom, we were bracing for a "clashing of wills" anecdote — those among us who've been down the aisle usually have a good story or two like that to tell. In fact, Alex herself told The List that a lot of her friends who have already gotten married have had to navigate parents who could be "a little overbearing at times with their opinions." Well, that wasn't the case for Alex, who married Mauricio Scott in a lavish wedding held at the Drummond family ranch in Pawhuska, Oklahoma — a wedding that Alex happily, peacefully, and utterly seamlessly planned hand-in-hand with her mom. 
"It was, honestly, very smooth sailing," Alex told The List during an exclusive interview. "There weren't really any moments where I feel like she was overstepping. It was all just very positive and she really helped me out a lot. It was really great." Seriously? Seriously. And yes, this even applied to planning out the wedding registry. 
Alex Drummond had fun planning her wedding registry, and chose this special dinnerware collection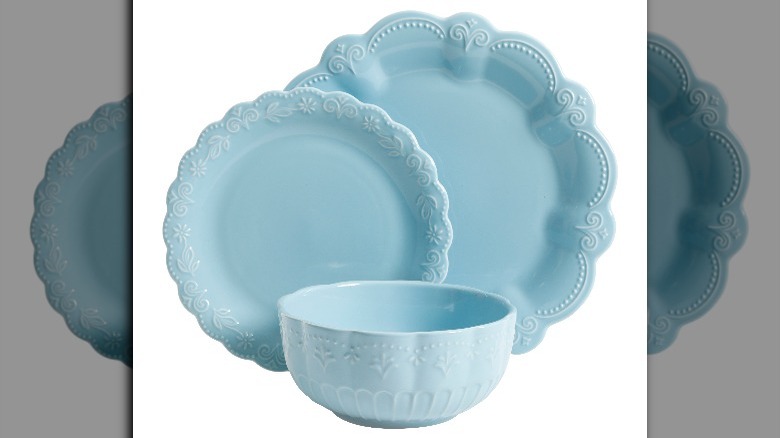 Walmart
Planning a wedding registry can be overwhelming. Once the reality hits that these are going to be your plates, dishes, and wine glasses for the foreseeable future, it can kind of do your head in — but not for Alex Drummond.
"I haven't had my own kitchen for very long," Alex told The List, "so I didn't know the essential pieces that you need and what you can do without." By contrast, as Alex pointed out, her mom, Ree Drummond, is a pro. Plus, she said, "I really like and value her taste, so she helped me pick out some different items and different patterns and things," while helping steer her toward a "good balance" of fancier products like china, and items like "good, durable dinnerware that we'll use everyday."
Of course, selecting everyday dinnerware was pretty much a no-brainer, as both Ree and Alex knew right away that the Toni Light Blue Dinnerware Set (shown in the photo above) was "the one," even before they made their way into Walmart's bridal registry department. Of course, they had a little inside knowledge — the 12 piece set is one of the stars of the Pioneer Woman collection at Walmart. 
"Ranch Wedding" airs at 11 a.m. EST tomorrow, June 26, 2021, on the Food Network and is set to stream on discovery+.