Carrie Fisher's Net Worth At The Time Of Her Death May Surprise You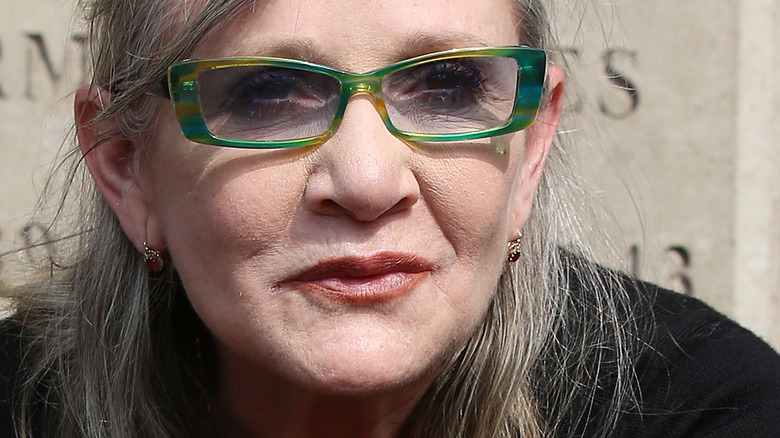 Neil Mockford/Getty Images
Carrie Fisher will forever be known as the fiery, straight-talking princess who led a resistance full of valiant rebels in the iconic "Star Wars" series of films. Although Princess Leia wasn't her first movie role, it was the one that catapulted Fisher to superstardom when she was barely out of her teens. Leia would eventually become her last movie role in a life of fame and fortune found between the scripts and between the book pages.
Fisher was born into Hollywood royalty. Her mother was America's Sweetheart, Debbie Reynolds, she of the petite frame and cheery disposition in "Singin' in the Rain" and "Tammy and the Bachelor." Her father was superstar singer Eddie Fisher and for a short time, her stepmother was box office darling Elizabeth Taylor. It's no wonder that when she was only 19 that she made her film debut in "Shampoo," starring opposite such big-name stars as Warren Beatty and Goldie Hawn. Two years later, in 1977, Fisher donned two buns on the side of her head and an ill-fitting white gown with a weapons holster as the lovely Leia, who had been kidnapped by the terrifying Darth Vader (via Biography).
Carrie Fisher tried to leave Leia behind, finding financial success with books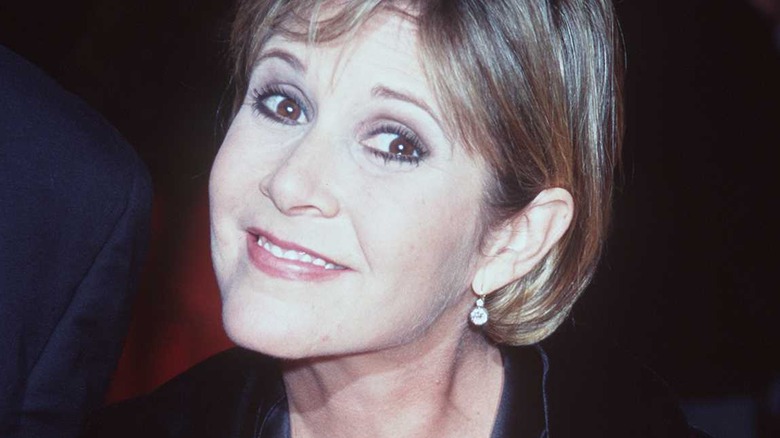 Denny Keeler/Getty Images
Although Carrie Fisher was to eventually appear in four more "Star Wars" films while alive, and once more through the magic of CGI after her death, she tried to get away from the role for decades, according to Biography. Through the 1980s and early 1990s, she appeared in a number of films, including "Hannah and Her Sisters," "The Burbs," "When Harry Met Sally...," and "Soapdish," (via IMDb), and it was during this time that Fisher also found a passion for writing, going on to pen several bestsellers.
Carrie Fisher's first book, "Postcards From the Edge," earned her a movie deal, and the semi-autobiographical novel was made into a film starring Shirley MacLaine and Meryl Streep. Several other books were to follow, including "Surrender The Pink," "Delusions of Grandma," "The Best Awful", "Wishful Drinking," and "Shockaholic" (via Publisher's Weekly). "Wishful Drinking" later became a one-woman play that Fisher both wrote and starred in, according to Celebrity Net Worth. Despite these successes,  no matter how hard she tried, Leia would always come back to haunt Fisher.
Carrie Fisher returned to her roots before her death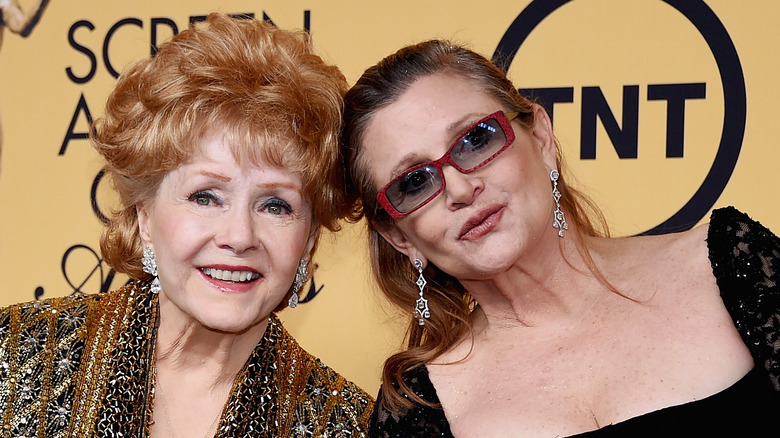 Ethan Miller/Getty Images
Carrie Fisher admitted that she spent years struggling with mental health issues, including bipolar disorder and alcohol and drug abuse. In 2006, she told ABC News, "I am mentally ill. I can say that. I am not ashamed of that. I survived that, I'm still surviving it, but bring it on. Better me than you."
Despite her mental illness, Fisher forged on with her careers in writing and acting, and ultimately landed in Leia's world once again — and this time she embraced it. Celebrity Net Worth reports that her salary in the original "Star Wars" movie was never disclosed and she was bitter from not profiting from the merchandising deals; she did take in 25% of the film's profits. However, she did make a low 7-figure salary for "The Force Awakens," the first sequel of the original trilogy, according to Variety.
Fisher also owned a Beverly Hills home adjoining her mother, Debbie Reynolds' home. After both women died within one day of each other in 2016, the homes were put on the market as one property, worth $18 million (via Mansion Global). As of 2020, it had yet to sell and Fisher's daughter, Billie Lourd, was renovating it (via the Daily Mail).
Between her movies, her books, her real estate, and a lifetime in the showbiz world, Fisher was worth $25 million at the time of her death, according to Celebrity Net Worth.