Ryan Phillippe's Secret To Looking Ageless
American actor Ryan Phillippe doesn't look a day older than he did over 20 years ago when he starred in the teen drama "Cruel Intentions." Because of his youthful appearance, people often mistake him for his 17-year-old daughter Ava's brother, the actor told People. Despite his life-long battle with depression, Phillipe somehow manages to stay in shape and have a balanced lifestyle.
In a 2015 interview with Elle, the actor opened up about his struggles in life. "You know, depression has been a huge obstacle for me ever since I was a child. As you get older I think it decreases some, but I'm just innately kind of a sad person," Phillipe said. However, he didn't allow his emotional problems to take a toll on his health. He's actually making waves in the fitness world, as Men's Journal reports.
In 2017, Phillippe launched Become, a fitness app for men over 40. His mobile-based subscription service offers everything you need to get in shape, from workout plans to meal prep tips. "I and others like me have worked with some of the best trainers, nutritionists, and doctors," the actor told Men's Journal. "The Become app will cut through and simplify," he added. But what's the secret behind his youthful looks?
Ryan Phillippe has been training five times a week for over 20 years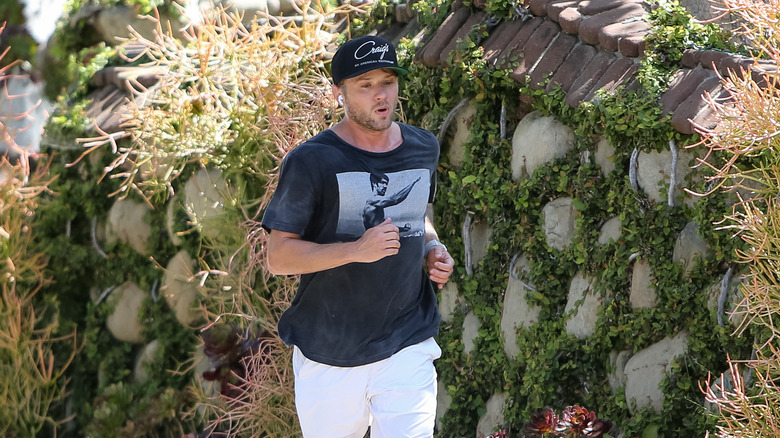 Bg004/bauer-griffin/Getty Images
The "Shooter" star is 46 years old, but he doesn't show his age. He has a flawless complexion, a fit body, and ripped abs. Genetics might play a role, but he also works hard to stay in shape. "I've had the same trainer for 20 years. Happy Hill is his name. I've worked out with him four to five times a week for the last 20 years," Ryan Phillipe told People. The actor also stresses the importance of committing to regular exercise. People who take care of themselves in their 20s, 30s, and 40s age more gracefully than those who pick up healthy habits later in life, says Phillipe.
As it turns out, the actor has been working out from an early age. He was just 11 years old when he earned his black belt in taekwondo, per Men's Journal. His workouts last about 90 minutes and include a mix of bodyweight exercises, weight lifting, and high-intensity cardiovascular training, such as sprints (via Muscle & Fitness). Phillipe's training routine doesn't require state-of-art gym equipment as some may think. The 46-year-old actor prefers to keep things simple, so he only uses his own bodyweight and free weights.
Regular exercise allows him to unwind and channel his energy in a positive way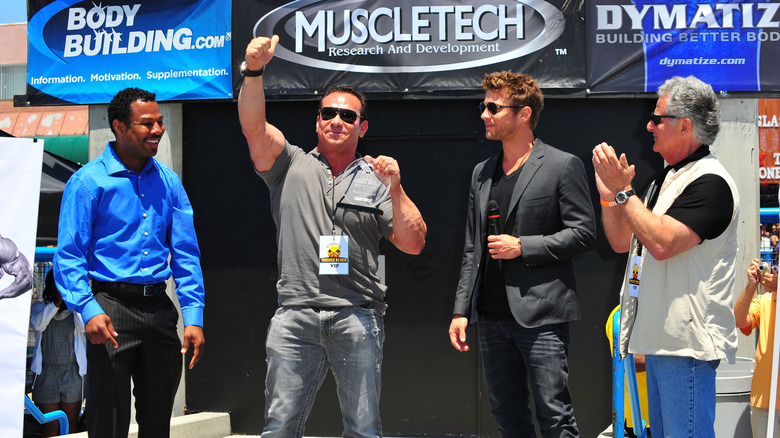 Allen Berezovsky/Getty Images
Ryan Phillipe's secret to looking ageless is his commitment to regular exercise. There are days when he doesn't feel like working out, but he does it anyway — and those workouts are often the most effective, he told Men's Journal. For him, exercise is therapy.
Whether he's lifting weights or doing push-ups, a good workout allows him to clear his mind and keep stress at bay. "Working out has become about functionality. I want my head clearer, I want to relieve the stress, and I want to feel capable and strong," says Phillipe (via Men's Health).
As far as his diet goes, he eats clean most of the time. Generally, he prefers to avoid wheat because his body has trouble digesting it (per Men's Health). However, he doesn't shy away from an occasional serving of fried chicken and french fries. "We're all going to age, but if you don't want it to be as devastating as it can be, take care of yourself. Eat right and get to the gym. I've never gotten lazy about that," Phillipe said in his interview with Muscle & Fitness.