Jon Pierre And Mary Tjon-Joe-Pin Reveal Their Favorite Part Of Two Steps Home - Exclusive
There is such a thing as comfort television, and if one channel delivers inspiration and heartwarming moments, it's HGTV. The network is home to the likes of "The Property Brothers," Jonathan and Drew Scott; Tarek El Moussa and Christina Haack; and more recently, to Jon Pierre and Mary Tjon-Joe-Pin. Jon and Mary star in the HGTV show "Two Steps Home," and the dynamite duo take viewers on a journey that includes not one, but two home renovations.
This is how the show works: Jon and Mary work with their clients to flip and sell their current home, then they work their magic to find a newer property, fix it up, and turn it into their clients' dream. Not only are viewers treated to the coveted HGTV home reveals during "Two Steps Home," but they get to follow one of nicest couples on television while they work to make their clients' dream a reality. The List sat down with Jon and Mary for an exclusive interview, and they shared behind-the-scenes details about their show, as well as what makes them excited as home-flippers and realtors. So settle in, because Jon Pierre and Mary Tjon-Joe-Pin revealed their favorite part of "Two Steps Home" to The List.
This is Jon's favorite aspect of Two Steps Home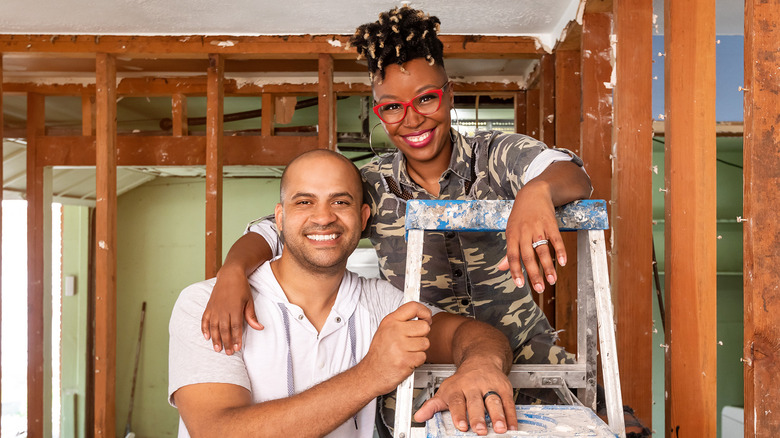 HGTV
It's safe to say that one of the best aspects of any HGTV show is the renovated house reveal. It's amazing to see the work that has gone into creating such beautiful spaces, and as viewers, home reveals allow us to take inspiration for our own living spaces. But what if we told you that the home reveal is also Jon Pierre's favorite part of the "Two Steps Home" process? 
Jon told The List that the aspect of the show he enjoys the most is revealing the second home — i.e. the dream home — to clients. He said that Mary Tjon-Joe-Pin's ability to design a space that is their ideal retreat, and thus their clients' reaction, is an amazing experience — we're just wondering when the dynamite couple are going to come renovate our homes, too. 
"[To] see the emotion that comes out of them, knowing that we put not just thought into renovating their house to make it pretty, but we renovated their house to make it their home," Jon said, is an amazing feeling. He shared that the ability to connect with their clients makes the process that much better — that no matter how much work has gone into the project, it's all worth it.
This is the special touch that Jon and Mary bring to their show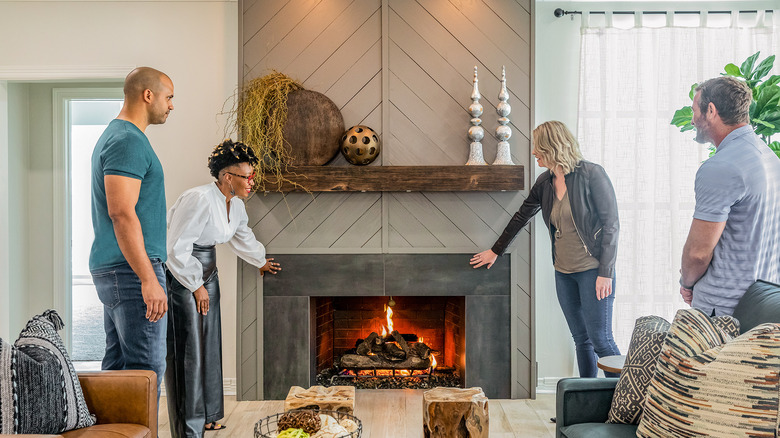 HGTV
There is something to be said about business partners that truly listen to their clients, get to know them, and incorporate their personalities into anny joint venture — Jon Pierre and Mary Tjon-Joe-Pin do just that. In their sit down with The List, Mary explained that in each episode, they work to incorporate some sort of gift into the dream home for their clients. 
In Episode 1 of "Two Steps Home," Mary was able to gift their client, Adrian, with something that connected them as moms (no spoilers as to what the gift was; you'll have to watch the show!). "The gift that we gave Adrian at the end really was one of my favorites ... I just had a connection to her as a mom, and just how hard she worked as a single mom. I just thought that it was really something that we don't get to see that often." Mary explained that one of her favorite aspects of the show is to see a client's vision come to life, but noted how important it is to identify the bigger picture. 
"As a parent, you think about your kids and they're the why. They're the reason why we work so hard," she said. Of the moment shared with Adrian, Mary said, "[It] was really special and I'll never forget it."
New episodes of "Two Steps Home" air every Wednesday at 9 p.m. ET/PT on HGTV.