How To Really Get The Burnt Smell From Heat Styling Out Of Your Hair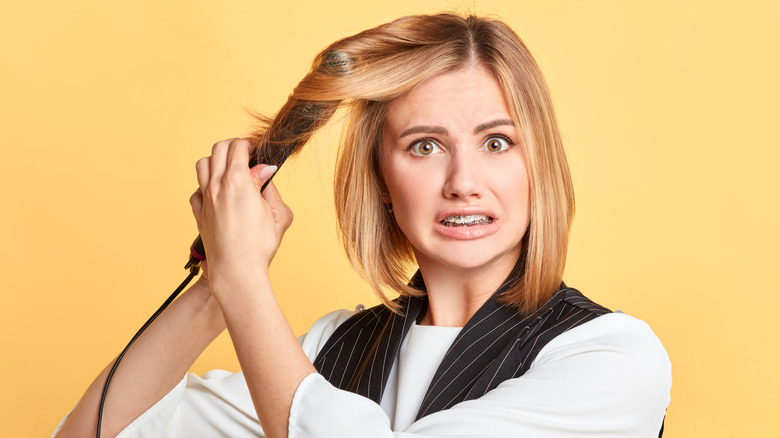 Shutterstock
Curling wands, flat irons, blow dryers, and thermal brushes are tools designed to create the perfect style for your hair. Depending on the tool you are using, you can create nearly any hairdo, including relaxed beach waves, kinky curls, voluminous ponies, or a sleek, straight style. These beauty tools make it an excellent time to be obsessed with hair.
There is a downside, however, as these tools utilize heat as their primary working mechanism. The heat can strip your hair of its natural proteins and oils, which causes damage, but unfortunately, to get those trendy celebrity styles, a hot tool is typically required. Stylist to the stars and hair care founder, Frédéric Fekkai, tells Well+Good that hot tools can harm the hair and states, "The worst are iron barrels and plates because they are very hot and in direct contact with the hair." 
You know you are really overdoing the heat when your hair starts making that sizzling sound and is then followed by the burnt charcoal aroma. According to One How To, healthy hair will always smell clean, but if you happen to have overdone it, there are some tips you can try to remove the unpleasant odor.
Try these remedies to eliminate the burnt hair smell for good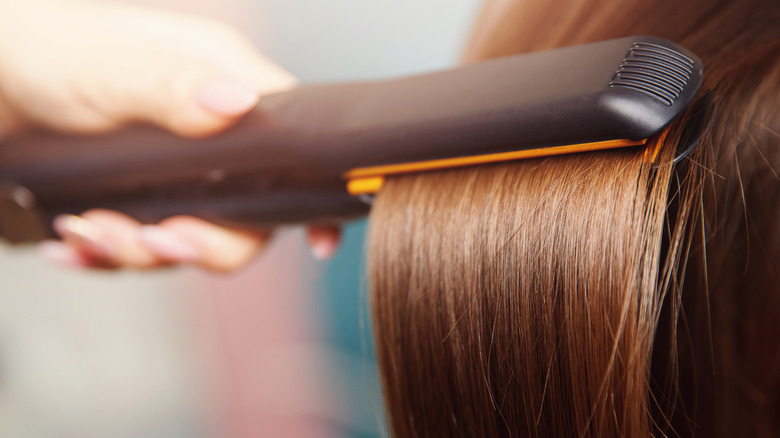 Shutterstock
The only way to avoid burning your hair is by completely eliminating the use of hot tools. Now that we've all had a good laugh, let's talk about how to rid the hair of that burnt odor. One How To suggests applying a heat protector product to the hair prior to drying it and to minimize use of heat when styling.
If you have burned your hair and the smell lingers after washing it, try to add some scented hair oils to your shampoo. You can also attempt to neutralize the odor with a natural oil, like almond or coconut. One How To recommends that, after washing your hair, comb the oil through your mane and leave it for 15 minutes, then re-wash the hair. The oils can help with the scent and with nourishing damaged locks. Aloe vera is another remedy you can try, mixing it with olive oil and letting it sit on the hair for 20 minutes 
If all else fails, you can try baking soda, which is a great odor absorber and chances are you already have some in your freezer. Add a small spoonful to your shampoo bottle, shake, and wash as usual.