The Truth About Ruben Studdard's Divorce
Walter Mcbride/Getty Images
Ruben Studdard filed for divorce from wife Surata Zuri McCants in November 2011 after just three years of marriage. And, two months later, in January 2012, their divorce was finalized. While the split between the "American Idol" winner and his now-ex-spouse got a bit messy at first, with McCants attempting to have their prenuptial agreement thrown out, claiming Studdard blindsided her with the legal documents just days before they said "I do," the prenup was upheld and ultimately, McCants was left with practically nothing to show for her years-long marriage. 
As a report from TMZ explained in April 2012, McCants claimed she was unfairly pressured into signing the prenuptial agreement, but their judge was not buying her claims. According to court documents released after the final judgment was made, Studdard was not required to pay McCants any spousal support or alimony. And, because the two shared no children of their own, child support did not come into play. In addition, Studdard was allowed to keep their home and all of his belongings, including his jewelry, pensions, royalties, clothing, and every bit of his cash. 
McCants even had to return her engagement ring! Find out what McCants was allowed to keep by scrolling on. 
Ruben Studdard's wife was left with nearly nothing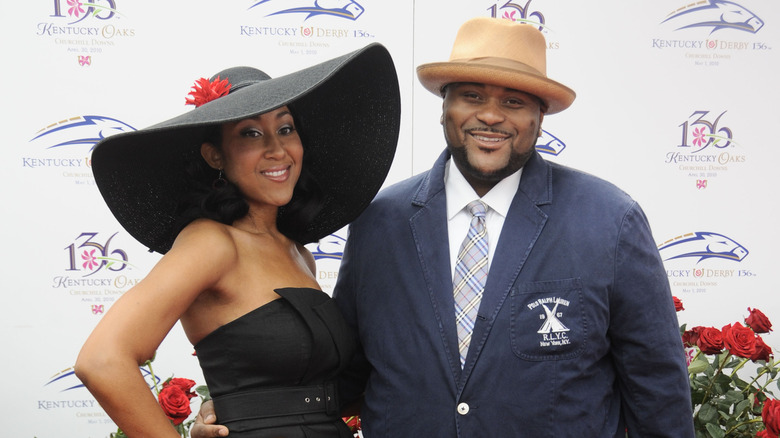 Jeff Gentner/Getty Images
As revealed by TMZ, Ruben Studdard's ex-wife, Surata Zuri McCants, was able to retain a number of personal belongings, including her wedding dress, her photo albums, a 2006 BMW (which Studdard was to pay off), a $10,000 property settlement, and $2,000 to cover her attorney fees. All in all, the outlet described the pair's split as the "CLEANEST divorce ever," crediting Studdard's "ironclad prenup" for the easy turnaround.
According to the New York Daily News, Studdard and McCants met in 2006 at an Atlanta Walmart where he was signing autographs for fans. Two years later, in June 2008, they wed.
Following Studdard's "American Idol" win in 2003, his first album, "Soulful," garnered a Grammy nomination for his single "Superstar," and his second album, "I Need an Angel," debuted on the Billboard 200 at No. 20. Sadly, Studdard's latest album, "The Return," seemed to show a substantial decline in his music career, selling only 71,000 copies in its first week. But we are sure the "Velvet Teddy Bear" will find a way to bounce back just like he did after his divorce!